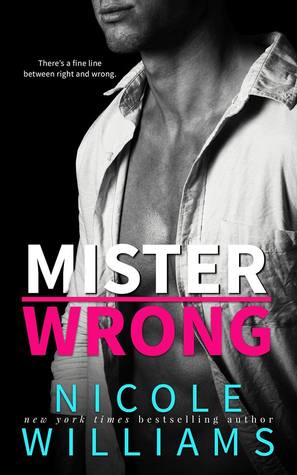 Mister Wrong

by Nicole Williams
on February 27, 2017
Buy on Amazon, Buy on B&N, Buy on iTunes, Buy on Kobo
Goodreads


Cora Matthews grew up with the Adams' boys, twin brothers and best friends who wouldn't let anything come between them—except for her. One of them became her best friend; the other, her fiancé.

She always knew she'd wind up marrying one of them, and Jacob Adams is the epitome of Mister Right. At least until he fails to show up for their wedding.

As Jacob's best man, and identical twin, Matt makes a split-second decision that will affect the three of their lives forever—he steps in to take his brother's place. In front of the altar, exchanging vows with the woman he's secretly been in love with for years.

But Cora finds out about the groom swap. The morning after the wedding. As if realizing she just slept with her fiancé's brother isn't disturbing enough, she's forced to confront the feelings for Matt Adams she thought she'd buried years ago.

Through the course of her real honeymoon with her fake husband, she uncovers truths both Adams brothers were hoping to keep hidden, for opposite reasons. One to protect himself, the other to protect her.

She married the wrong brother, but what if he's been the right one all along?
I love Nicole Williams…she is one of my favorite authors. That being said Mister Wrong unfortunately is not one of my favorites of hers.
I truly believe Ms. Williams can write anything but I am more of a fan of her darker reads like Collared or The Fable of Us.
Mister Wrong is a story of twin brothers and how Cora ends up with one while the other secretly pines away for her for many years.
I loved Matt (the non-fiancé) from the start but didn't love how he deceived her all the way up to the morning following the wedding night.
I also didn't get how Cora who has been with Jacob for YEARS couldn't tell who she was with. A person doesn't change overnight with how they talk or how they are when you are physically with them.
Despite all this, I was hooked to the story…I couldn't put it down and devoured it in a day. I loved Matt's words and really liked them together. I do wish the book was a bit longer so we could have seen more of them together or even the repercussions for his actions with his dad when they got home just to see how everything turned out.
I am happy that Cora found her happy with her Mr. Right!