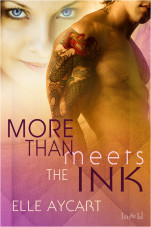 5 STARS!!!
Summary
Wickedly sexy James Bowen is a bad boy of the highest order — tattoos and attitude included — which unfortunately ranks way up on Tate's not-a-chance-in-hell list, right there along with skydiving naked over Teheran and juggling Ebola vials just for kicks. But what the heck, she's on holiday, the guy is absolutely irresistible, and she needs to unplug from her life. With her dad and brother gone, Tate is left to deal with the family restaurant, which is fast going down the drain. Her employees are acting out, her boyfriend has bailed out, and her very own private stalker is emailing her to death with lovely threats of doom, fire, and dismemberment. So yeah, maybe a little holiday fling is in order. Strictly sex though, and no follow-up whatsoever once.
She hadn't counted on her take-charge holiday fling having an opinion of his own and stubbornly sticking around, before and after the sex, making himself at home in her life. There is definitely more to James than meets her prejudiced eye, and even if she's not ready to look deeper, James isn't prepared to permit her not to.
Publisher's Note: This book contains explicit sexual content and graphic language.
Denise's Review
I really enjoyed More Than Meets the Ink.
The book tells the story of James and Tate.  They meet when she is visiting her Mom and he is Dad in a senior community in Florida. Tate's makes it clear she plans to judge a book by its cover, in this case write James off as a bad boy because of his tattoos (hence the book name)
Some of the scenes at the retirement community are adorable, even laugh out load funny….James interacting with the older ladies is so cute and there is some banter with James and his Dad on the golf course that is hysterical .
Tate and James engage in some fun and witty banter before agreeing to sex only. Though it becomes clear to both early on that what they are experiencing they have never felt for others.
James accepts his feelings very early on and he realizes she is going to fight her feelings at every turn. Couple the traumatic loss with the fact that the last man Tate confided in called her needy and walked out of her life when she needed him most and you quickly see why Tate is scared to death by her feelings for James.
James is willing to take on the challenge of proving to Tate that he is there for, that she can rely on, him, that she can trust him.
James is sexy, hot, engaging and when he calls Tate "Princess" your heart will melt.
The sex scenes between James and Tate are very hot; James is vocal about loving her body and wanting her to be pleased.
More Than Meets the Ink was a delightful read.
The plot kept me engaged and what kept me reading was the hot sex and the hope that Tate would realize how wonderful James was.
Off to read Heavy Issues, a book about Cole, James brother, I hope this brother is just as yummy!
About the Author
After a colorful array of jobs all over Europe ranging from translator to chocolatier to travel agent to sushi chef to flight dispatcher, Elle Aycart is certain of one thing and one thing only: aside from writing romances, she has abso-frigging-lutely no clue what she wants to do when she grows up. Not that it stops her from trying all sorts of crazy stuff. While she is probably now thinking of a new profession, her head never stops churning new plots for her romances. She lives currently in Barcelona, Spain, with her husband and two daughters, although who knows, in no time she could be living at the Arctic Circle in Finland, breeding reindeer.
For more information follow her at:
Twitter – @AycartElle
o   http://elleaycart.blogspot.com.es/
o   http://www.goodreads.com/group/show/83237-bowen-brothers-support-group
o   http://www.goodreads.com/author/show/4994153.Elle_Aycart