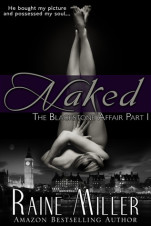 4 STARS!!!
Summary
Brynne Bennett is living the good life. An American art student at the University of London and part-time photographic model, she's putting her life back on track with school and lots of hard work. When ultra successful London businessman, Ethan Blackstone, buys her nude portrait, he isn't taking 'no' for an answer. He wants Brynne in his bed and makes plans to keep her there no matter what. His dominant nature captivates and ensnares despite the demons she carries inside her. But there are secrets in this relationship. Huge ones. Can Ethan free Brynne from the past that has marked her? Will Brynne let him or will the specters tormenting her resurface to destroy them both.
Christine's Review
Ethan is bold and dominating and he knows what he wants. He is a reserved gentleman in public and hot and aggressive and dominating when he and Brynne are in private. Brynne has a past which the author alludes to in the book but doesn't go into further detail so we are left wondering what happened. I liked that Ethan was overprotective of her and that with him Brynne felt safe. With her, Ethan wears his heart on his sleeve. I didn't care for how they met – that it was because her father wanted someone to protect her and hired him as her body guard. I wished that he was upfront about that from the beginning as Brynne obviously has trust issues.
This was a quick read by Raine Miller that was both well written and engaging. The author developed her characters well but I wished it was longer! Right when it was starting to get real good and I wanted to get more involved – it was done! I am looking forward to All in which will be from Ethan's POV. I would like to see what happens with the relationship with this couple.
About the Author
Raine Miller has been reading romance novels since she picked up that first Barbara Cartland book at the tender age of thirteen. And it's a safe bet she'll never stop, because now she writes them too! Granted Raine's stories are edgy enough to turn Ms. Cartland in her grave, but to her way of thinking, a hot, sexy hero never goes out of fashion. A part-time teacher and writer of sexy romance stories every other chance she gets pretty much fills her days. She has a handsome prince of a husband, and two brilliant sons to pull her back into the real world if the writing takes her too far away. Her sons know she likes to write stories, but gratefully have never asked to read any, thank God! Raine loves to hear from readers and to chat about the characters in her books. You can contact her at raine_miller@ymail.com or visit www.RaineMiller.com to find out what she's working on now.
Twitter Raine_Miller
Website http://www.RaineMiller.com
Facebook http://www.facebook.com/pages/Raine-Miller-Romance/192424687520533