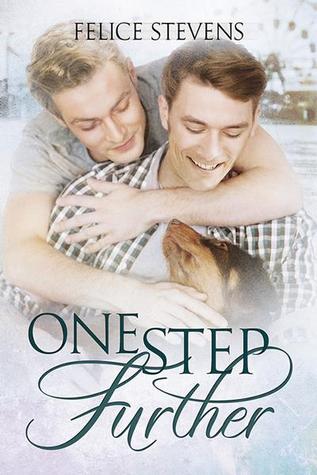 One Step Further

by Felice Stevens
on June 30, 2015
Buy on Amazon
Goodreads


Alex Stern has it all; good looks, charm, a job he loves and everyone calls him a friend. He lives life to the fullest at a breakneck pace, in the city that never sleeps. But Alex is also a master pretender; not even his best friend sees the pain that Alex hides so well. Alex himself isn't sure who he is or what he's searching for, he only knows that he hasn't found it yet.

As a veterinarian, Rafe Hazelton loves each animal that crosses his path; they don't care if he stutters a bit or that he prefers men. Their love is unconditional, but his life is still empty; they can only give him so much. New friendships convince him it's time to break the wall of loneliness he's hidden behind since childhood and discover what he's been missing.

Alex and Rafe forge a friendship that turns physical, and they both swear that the relationship will last only as long as the fun does. But when old heartaches come to light and secrets hidden for years are revealed, Alex and Rafe discover if they accept what's in their hearts and take it one step further, the greatest reward is waiting for them in the end.
Though this book can be read as a standalone, I think it is appreciated most if you read Memories of the Heart http://amzn.to/1g3uH3N (a book I loved) first as that is where you first meet surgical nurse, Alex Stern and veterinarian, Rafe Hazleton.
Alex and Rafe meet when their paths cross as a result of the relationship that develops between Micah and Josh in Memories of the Heart.
One Step Further opens at a bachelor party of sorts for Micah and Josh and it is a wonderfully written scene that shows how different Alex and Rafe appear to the world.
As the book develops both Rafe and Alex are forced to confront their pasts… not only did this allow the reader a window into each man's soul, it was so powerful to witness each man support the other.  And for me, I loved how it illustrated the depth of feeling these men were developing for each other.  Saying "I love you" are just words, but being there supporting each other, standing together in time of crisis show love, love in action.
Ms. Stevens also manages to weave some humor into this story, in so many places I love the dialogue that developed between these two:
"You brushed your teeth? Did you use my toothbrush?" Rafe knelt by the side of the bed.

"You had your mouth on my cock this afternoon." His lips curved in a teasing smile.

"Does it bother you if I used your toothbrush?"

"Hmm. Point taken."
I loved being a witness to these two men opening up to each other, watching them explore each others bodies was hot, experiencing them opening their hearts to each other was powerful
The use of both men's families was powerful and in the scenes with Alex's father, I could feel the love these two men share as they deal with his bias.
Rafe and Alex create a new life for themselves, one surrounded by friends and family, a life that pays honor to their past, one that is painful for the reader to learn about but in the end brings healing.