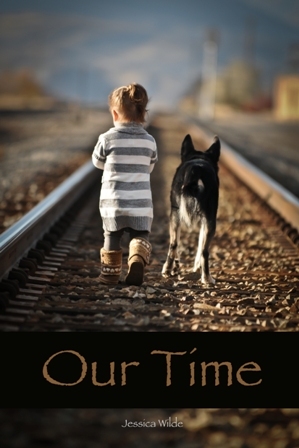 Our Time

by Jessica Wilde
on December 2013
Pages: 230
Buy on Amazon
Goodreads


Jocelyn White's only priority in life is her daughter, Olivia. As a single mother, with no family and the only friends she had now hours away, life isn't easy. But the last several years taught her what is truly important and she plans on spending the time she has loving her little girl and keeping her safe and happy. She doesn't plan on her new gorgeous, blue eyed neighbor turning out to be the one thing her and Olivia have been missing.

Andrew Carter has been waiting his whole life for a woman like Jocelyn. After his parents died years before, leaving him to care for his little sister, Madison, he spent years patiently waiting for a family of his own. When Jocelyn and Olivia completely steal his heart, he knows his patience has finally paid off and it's time for his life to finally start.

What he doesn't know is that Jocelyn is keeping something from him. Something she learned a few years ago.

Life is short and sometimes, time isn't on your side.
First I adored Andrew… second, I love that this book was about so much more than lust. It was about true love, the deep, life altered, create a family forever kind of love. And third I was so happy I was able to curl up and read this book straight though.  I was fortunate enough to be able to sit and get sucked into this book making it even more enjoyable as I was able to stay in the moment as these two found love!
Our Time is the story of Jocelyn White and her daughter Olivia, that is until this single mom comes face to face with her new neighbor, Andrew Carter.
Baring witness to Andrew seamlessly folding into Jocelyn and Olivia's lives touched my soul.  The message that love and family is not about blood shined bright in this book!  Andrew's tenderness with Olivia; this little girl was so well written, watching her and Andrew bond made me smile and had me believing in love. Parenting is not about blood and Andrew proves that in spades.   Experiencing Andrew and Jocelyn developing an emotional connection kept me glued to my kindle.
When Andrew and Jocelyn finally give into the physical side of attraction, WOW the connection that jumps off the pages – I fell in love with him even more.
The moment Andrew comes face to face with the secret Jocelyn has been keeping, this vividly written scene had my heart in my throat and tears in my eyes. No, I will not tell you what it is. Read this wonderfully written stand alone novel.
I do want to add I adored the use of Madison, Andrew's sister!
Oh and the epilogue of this book may bring tears to your eyes as in an adorable twist, Ms. Wilde will evoke a deep range of emotions!