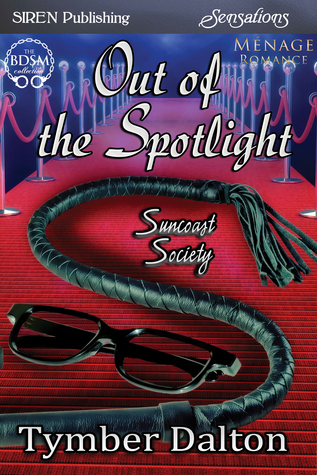 Out of the Spotlight

by Tymber Dalton
on May 11, 2015
Buy on Amazon
Goodreads


[MMF with MM and MF, erotic BDSM contemporary romance]

(Suncoast Society series #23)

Nick knows his deepest secret—he's a bisexual masochistic submissive—won't mesh with his macho, action-hero Trevor Nichols persona. He flees Hollywood in disguise for a secret vacation in his hometown of Sarasota…and a trip to a BDSM club. Nick didn't expect to fall in love with Lucas and Leigh, but he's never been happier. This is who he wants to be, and Lucas and Leigh are who he wants.

Lucas and Leigh have been best friends since college. Both had their share of heartbreak. Lucas is gay, but he's Leigh's Master and lover, and they've decided to get married and have a baby. Meeting Nick at a munch throws a hiccup into their plans, because they're both attracted to the hottie who looks vaguely familiar.

Now the paparazzi are on Nick's trail and threatening to turn Lucas and Leigh's world upside down. Can he still have it all, or will he be forced to say good-bye to protect them?
First and foremost, this book can easily be read as a stand alone. I have not read all the books in this series though it is a series I love. I pick up a book when the blurb grabs me. You see the Suncast Society series book have characters who share membership to the same BDSM club.
The blurb for this one grabbed me the minute it was released! And Ms. Dalton did not disappoint. I loved that this book causes the reader to think, to try to appreciate that everything doesn't fit inside a neat little box, that sometimes happy is about finding the right people in your life and not about the labels we put on it.
I also loved that this book makes you think about what it is like to live in the spotlight, how hard it is for celebrities to just have a life, how tough it is for them to just exist and be happy without seeing what they did yesterday appear online tomorrow or in the papers.
In Out of the Spotlight, action hero star, Trevor Nichols returns to his home state of Florida as Nick, the name he gave up years ago when he departed for L.A.
Nick wants to explore his deepest fantasies, his sexual desires, his yearning to be a bisexual masochistic submissive.
Lucas and Leigh are a couple but with a very unique set of circumstances, one I will let you uncover for yourself. I will say I loved their honesty with each other and their reaction to meeting Nick was so well done. The reader can feel the connection these three share and it is clear they somehow just fit.
This book is hot, like m/m/f menage kind of hot but it is also sex woven into a story of finding a happy you never thought you could have.
When the press comes sniffing….. well…. life gets messy… though I will not tell you how this is resolved, I will say the cascade of events the press causes was  heart breaking but the  way it was resolved healed my heart!