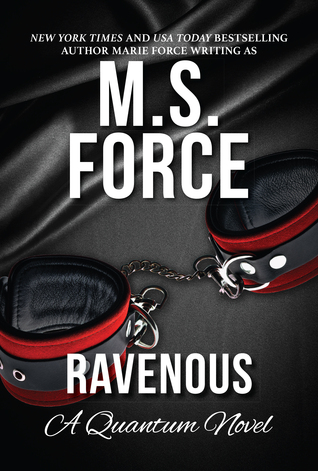 Ravenous

by Marie Force
on August 23, 2016
Pages: 292
Buy on Amazon
Goodreads


A stand-alone Quantum story from New York Times bestselling author M.S. Force!

She wants a baby. He wants her. Simple enough, right?

Ellie Godfrey has kissed her share of frogs. So many, in fact, that she fears she won't recognize her prince if and when he finally comes along. Tired of waiting for THE ONE, Ellie decides to have a baby on her own before it's too late.

When Jasper Autry hears about Ellie's plan, what else can he do but step in and offer to "contribute" to her project. Does that make him an opportunist? Whatever. He wants the perpetually out-of-reach Ellie Godfrey, and when he sees his chance, he takes it. That she's the sister of his business partner and close friend Flynn gives him pause, but it doesn't stop him from having what he wants.

As Jasper and Ellie embark upon their secret "project," he makes it clear that for as long as they're together, he's in charge—in the bedroom anyway. After the hottest sex of her life, Ellie realizes she's made a deal with the devil himself.
Warning: If you hate foul-mouthed heroes who like it a little rough and dirty, this might not be the book for you…Contains hot and sexy BDSM scenes among other things that might not appeal to the faint of heart. Enter at your own risk and enjoy!
This is the kind of book you will obsess over when you have to put it down to go about your daily life. Ravenous is the story of Ellie Godfrey (sister to Flynn the hero of book 1 – 3) and Jasper Autry a principal of Quantum, he is their  cinematographer.
The blurb informs the reader that Elle wants a baby! Being the big sister to a huge movie star has her accepting Jasper's offer to help with that project… what the blurb doesn't share is Jasper's true motivation for this and what you won't find in this review is Jasper's reason. Why you ask? Well because experiencing it how Ms. Force wrote it will pull you into the story and captivate you as it unfolds through her beautiful writing style!
For me, this was the best book of the series!  Ellie was so real, I adored this successful woman continuing to run her life as she sees fit, working to build the future she sees for herself…. and Jasper oh Jasper he captured my heart from almost the moment he opens his mouth. It is so very clear he wants Ellie and why he struggles to embrace that tugged at my heart.
As Ellie and Jasper spend time together, you will find yourself wishing that they would open up to each other, that they share their secrets… Well no worries there, they do open up as the easy comfort they find isn't something they fight for long… but there are reasons for secrets and when those are threatened to be exposed be prepared to white knuckle your kindle!
It was so wonderful to see the staff of Quantum, this family, come together at this critical moment in the story!  Witnessing them stand up for each other and truly rally highlighted for me that the author truly crafted a cast that will captivate readers hearts and minds.
The end of this book left me with a smile from ear to ear!
I truly hope Ms. Force continues to write books in this series as they are many happy's left to tell!
If you are fans of Ms. Force's Green Mountain series this book is hotter, with some more detailed sex scenes but they work in the context of the story and the sex by no means takes away from her storytelling; in many ways it adds to it. Her wonderful dialogue during the power exchange between sub and Dom spoke to the characters and this author's talent (love these scenes in this book and the others in the series).
** You are get the first 4 books in the series for a steal by buying the new bundle http://amzn.to/2b4cwbA