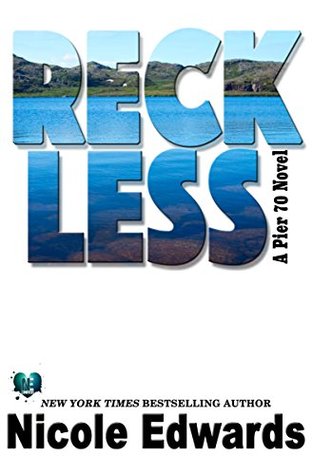 Reckless

by Nicole Edwards
Series: ,
on October 27, 2015
Pages: 343
Buy on Amazon
Goodreads


He's a walking contradiction...

Cam Strickland, one of the four owners of Pier 70 Marina, has earned the nickname his friends gave him years ago. Reckless. Sure. By definition. When it comes to fun, Cam hasn't yet met a challenge he wouldn't accept. In other areas, he's likely far too cautious for his own good.

He's his complete opposite...

Gannon Burgess, CEO of Burgess Entertainment, one of the top video game producers in the world, finds himself smack in the middle of the last place he would ever expect to be. But Gannon only thinks he is out of his element standing in the small marina office. Then... he meets Cam.

Rumor is opposites attract.

Sparks fly when this sexy, tattooed bad boy comes face to face with this buttoned-up gamer in glasses.

Can Cam and Gannon push one another out of their comfort zones? Or -- thanks to the events that have shaped their lives -- will the time they spend together prove to be just another reckless adventure? This one involving their hearts.

Gay Romance
Reckless is book 1 in a new all m/m series by Nicole Edwards.
The series centers around Pier 70, a full service marina, owned by Cam Strickland and his friends, Roan Gregory, Dare Davis, and Teague Carter.   Cam's father provided the seed money to start the marina and this retired police officer also offers these men a father figure offering advice and humor throughout the book.
Reckless is a wonderful book 1, painting a picture of four friends and the life they have built.  Book 1 is the story of Cam and his journey to a happy he never imagined for himself.  A happy with Gannon Burgess, a multimillion dollar software developer; a man who when the reader meets him is all work and no play.
Gannon finds himself at Pier 70 when Milly Holcomb, Gannon's assistant, best friend and really his only family makes the executive decision that Gannon needs to plan some team bonding. She plans an outing on the water, yes at Pier 70.
It is clear to the reader from the first encounter that Cam and Gannon have a deep attraction.  I love how the author made this connection feel different from anything either man have experienced before.  I would be remiss if I didn't mention the epic banter these two develop, from the first meeting on, they push, they made each other smile, and in the end they captured my heart.
Gannon though in appearance is what some would call nerdy, is a true business man at heart and I loved how this played out in his pursuit of Cam. Gannon knows what he wants and he wants Cam. Why Cam is hesitant is rooted deep and the slow reveal of this from Cam to Gannon and to the reader made for an engaging read.
As these men slowly give into this attraction, this story heats up, and in true Ms. Edwards fashion, she weaves steam with emotion crafting sex scenes that so suit the characters involved.
The authors also does a wonderful job building connections between these characters and creating each with his own personality.
I adored Dare, he was funny and witty and often so insightful. I can't wait to witness to him falling in love in a subsequent book.
Roan, this poor man is struggling with his family and with his emotions, I am looking forward to witnessing his healing and finding love.
And that leaves Teague, the young playboy who seems to have connection to one of the marina's employees; Hudson!!!… And speaking of characters, I am dying to know more about Hudson, the marina's boat mechanic, the reader can so feel there is something between him and Teague. The scene with them together was so well done with so much tension and underlying energy that you can feel the tension rolling off both men!
Cam's past is a painful one, one that may end up costing him Gannon… I adored how Ms. Edwards dealt with Cam's demons. They were not glossed over, the issue that arises from them made me love Milly even more, and allows the reader to see that Cam and Gannon were willing to take help to be together.
Yes, I know this is vague but I think this is best experienced as the author laid out. So please read the book.
I am so excited for this series, all these men are now characters I want to have a happy so please Ms. Edwards write fast because Pier 70 is a can't wait for the next book series for me.
I was beyond thrilled to see that book 2 Fearless, now being written, is Dare's story!!!!!!  And I am anxiously awaiting Teague in Speechless (wait til you see why this book is named this) and Roan in Restless .
This is truly a drop everything, must read series for me and these men have burrowed their way into my soul!