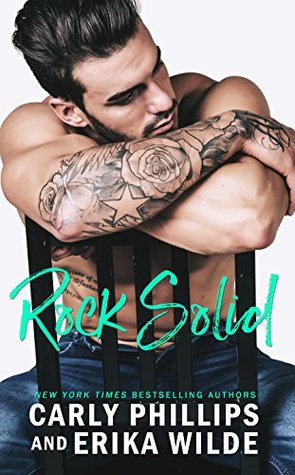 Rock Solid

by Carly Phillips, Erika Wilde
on November 14, 2017
Pages: 152
Buy on Amazon, Buy on B&N, Buy on iTunes, Buy on Kobo
Goodreads


Connor Prescott doesn't do one night stands (yes, ladies, he's an anomaly) so when he meets a beautiful woman during a snowed in night at the airport who wants to forget her heartache, he makes an exception. Their night together is incendiary, and by morning Connor wants more . . . except his sexy stranger is gone. He's pretty sure he'll never see her again, until three and a half years later she finds him, and changes his entire world with three little words . . . You're a daddy.
I am going to start off by saying I LOVED CONNOR! Carly Phillips and Erika Wilde are two authors I have been wanting to read for some time. As soon as I saw the blurb for Rock Solid, I knew I had my chance to dive into these two authors writing.
The blurb grabbed me and then the book engaged me from almost the moment I opened it.
If you enjoy single mom books this is a great one—there are so many well written scenes—ones with heat and deep emotion. I am not telling you anything the blurb doesn't. Connor has no idea he had fathered a child during a one night stand (a one night stand that it is clear touched his heart and that is something he doesn't normally do – FYI I loved that).
The scene when Katie locates Connor, the scene when Connor finds out he is a father, and—be still my heart—the first time Connor sees his daughter were all masterfully well written!
I loved, LOVED their little girl's name and I adore watching Connor bond with her.
Connor will capture your heart when he works to win Katie's over. Katie's past is one that affects her ability to trust. Connor's respect and desire to push through that touched my heart.
In the end, Connor and his extended family offer Katie so much of what she never thought she would have. Did I want to strangle Katie for a moment? HELL yes! Did it make sense for the character crafted? 100%.
Was this love and family built in the traditional form? No, but as a reader did I know it was forever love? Heck yes! The authors did an outstanding job making it crystal clear that Katie and Connor were meant to be together—that the connection they share, though very brief at first, was like nothing either had felt before!
This book is a standalone and a fun one to devour when you want to escape and have your heart swell with love for a male hero!