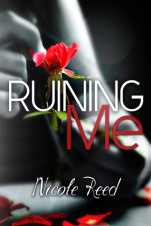 5 STARS!!!
Summary
Eighteen year old Jay Stevenson is living a horrible nightmare.
Two years ago, she had the world in the palm of her hand, but in one moment, it was ruined. Secrets, lies, and the worst imaginable betrayal haunt her new reality. Burying her problems under a cold façade seems to be the only way to cope until it all catches up with her. Soon, she loses control of the lonely world she built around her, and the past, present, and future collide.
Three guys are there when it all comes crashing down: JT, the perfect boyfriend she never wanted to give up; Rhye, the local bad boy "rock star" who made her forget the past; and Kane, the funny and sweet tattooed bartender who wants her future.
Secrets must be kept. Choices must be made. Is it possible to move forward while still chained to the wicked vices of the past?
Denise's Review
First I want to say hats off to Ms. Reed.  Ruining Me coupled with Ruining You (book 2) make for an amazing story.  This young woman's journey will touch your soul, I know it touched mine.   I sit here three days later still thinking about this story!
Jay Stevenson is attempting to live in silence while a horribly traumatic event eats away at her soul.  Two years ago she had everything a high school girl could want.  As you read you learn this event has caused her to retreat into herself pushing away almost all of her lifelong friends and her boyfriend at the time, JT.  JT is the football star, caring, loving and everything a young girl could want.  Jay shut him out as she could not allow her experience to be a part of him. 
As Jay pushed the pain down, she turns to Rhyse, the local bad boy rock star.  Coupled with booze, drugs and sex, this is her way to bury the pain. Rhyse sees Jay, he sees her pain and this connection is something that the reader is able to feel.
The one person Jay is unable to push away is her childhood friend Cal. I adored him.  He pushes Jay just enough and stands by Jay.  Cal is truly a character I would love to see have his own story and his own happy ending.
Jay's desire to escape has her becoming a regular at the local bar.  This bar puts her face to face with Kane, a man who when the reader first encounters him sends chills up your spine. The physical attraction these two feel is tangible.  The more the reader learns about Kane the more they see he is the whole package, yes attractive, but also funny, kind, caring, attentive and he truly wants Jay to open up and deal with her life. Kane's past is in connection to Jay's emotional state that carries throughout the story.
Kane's presence in Jay's life starts to slowly shatter her desire to disconnect from the world. As Jay starts to want a future, it becomes clear that those around her are starting to figure out something happened to her.
Jay underestimates JT's love, his desire to want to be with her and his ability to understand her. JT wants Jay to open up, wants Jay to let him back in.
Yes, this book has three men wanting Jay's attention.  That makes for some powerful scenes as these men all feel they have a connection to Jay that make her his soul mate.
When Jay's past is revealed, the events that transpire will break your heart.  I truly felt this was a true picture of how an event like this would or could affect a close knit community. 
This book will pull at your soul but if you pair it with book 2 Ruining You, it will repair your soul, give you hope that people can move forward after tragedy and for me it brought a huge smile to my face.
I look forward to more amazing reads from Ms. Reed.
For those who know Denise, they know she lost her brother and only sibling to suicide in 2005.

She is so touched by the wonderful job Ms. Reed did painting an accurate picture of mental illness.

https://www.facebook.com/keithamilano.  The Keith Milano Memorial Fund was established to help raise awareness about the devastating and deadly disease that is mental illness.  Keith's spirit and laughter is kept alive though our efforts to increase awareness about mental illness and to raise money for education and imperative research.  Keith often struggled with society's perception of mental illness.  Our hope is that by having the strength to say that Keith was "Bipolar", we can strip away the stigma and help others to be more open about their disease.  The Keith Milano Memorial Fund benefits the American Foundation for Suicide Prevention (AFSP).
About the Author
I love angst….I thrive on it, but only the fictional kind. I adore a story that grips the reader from the beginning and doesn't let go…EVER. I'm an avid reader who just recently discovered my love of writing. My favorite things in life include my three wild & crazy kids, Reeses Pieces, and every genre of music.
Twitter Nicole1Reed
Website http://nicolreed.wordpress.com/
Facebook http://www.facebook.com/nicolereedauthor?fref=ts
Goodreads http://www.goodreads.com/author/show/2952211.Nicole_Reed