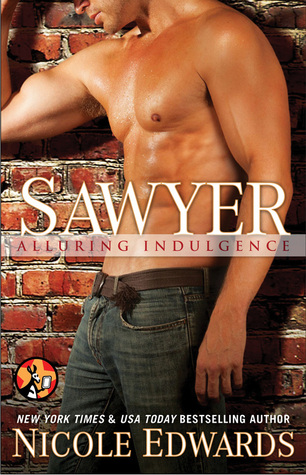 Sawyer

by Nicole Edwards
on March 2, 2015
Buy on Amazon
Goodreads


From New York Times and USA Today bestselling indie author Nicole Edwards comes the seventh book in her Alluring Indulgence series, erotic romances featuring the Walker brothers from Coyote Ridge, Texas, and their sizzling-hot love interests.

Sawyer Walker has never run into problems with women. The female population tends to swarm toward him, in fact, and he's never had a complaint.

But there's one woman Sawyer has always had his eye on. A woman who won't give him the time of day. In recent months, it would seem that Kennedy Endsley is opening up to Sawyer, but she's got a few surprises in store for him. Because, as hard as she finds it to resist the handsome Walker brother, she won't give in easily. Not when her heart is on the line.
First and foremost I love this series. The Walker family has taken up residence in my heart and will likely live there forever. Sawyer opens with a note from the author to the reader; one that I think truly sets a wonderful tone for the book. Many of us have been waiting patiently (ok sometimes not so patiently) for the second oldest Walker man to have their story told.
I know I personally fell in love with Sawyer as I read Ethan; Sawyer's role in the events of Ethan's past truly had him taking up residence in my heart.
Ok so this book tells the story of you guessed it – Sawyer Walker. Sawyer and Kennedy Endsley, the daughter of the sheriff of Coyote Ridge.
Coyote Ridge is a small town that Ms. Edwards vividly brings to life for the reader. In this one, I loved the play on the small town as it touched the story in many ways. Sawyer and Kennedy did go to high school together and from the moment you open this book, you know their past affects their future (nope not telling read the book).
This books starts in the present day and immediately reminded me why I adore this series; the Walkers brother's banter is epic.
"What's wrong?" "I forgot to call everyone and find out where they were, what they were doing, and when they'd be here. Sorry, bro. Apparently, I'm falling down on the job."
And the football banter with the twins is epic. Nope not the sports related; trust me you will know it when you read it.
Sawyer deciding he wants Kennedy and pursuing her made me smile. I loved his determination and watching him want her reminded me why I love this series and the Walker men!
"You're the only flavor I want, Kennedy. The only f&cking flavor I've wanted for a long f&cking time."
Sawyer truly wants Kennedy to get to know him; to learn to trust him. He even takes her on a tour of the resort and although his attempt does not turn out the way he expected, I truly loved that he wanted Kennedy to know his world.
I love how the reader was painted a beautiful picture of the Alluring Indulgence resort and they truly got to appreciate the accomplishments of the Walker men.
Now AI plays another role in this story, one that feels so true to what a resort like that could mean to someone. This element of the story, one I will not reveal, was masterfully layered into the story.
Sheriff Endsley, Jeff, Kennedy's dad has some amazing scenes in this book. I wish I could tell you why I hope this man gets his own book but that would ruin it for the reader so I will simply say I hope Jeff gets his happy. Ms. Edwards wove a wonderful story line about Jeff into this Kennedy's past and present!
Ms. Edwards has truly crafted Coyote Ridge into a place that feels real. So I will add to my list of stories that I would love to read (my mental list of books I would like this author to write): Mack the bartender from Moonshiners and Jared Walker, the Walker's cousin, Curtis' nephew who returned home in "Ethan" and whose story is further expanded in this book. Oh and one more request since I am in asking mode… Curtis Walker please…. there is a 10 year age gap between Lorrie and Curtis' marriage and the birth of Travis and I so want to know the story here!
In the end, the happy that Sawyer and Kennedy find was truly a happy worth waiting for.
I am so torn as I write this, I am so very excited for Brendon (Alluring Indulgence book 8) but a bit sad as it is the end of one of my favorite series.
Thank you, Ms. Edwards for a wonderful family saga and for allowing me a few hours to live in the town of Coyote Ridge.
♥READ THE BOOKS♥
Book 1 – Kaleb
Book 2 – Zane
Book 3 – Travis
Book 4 – Holidays with the Walkers
Book 5 – Ethan
Book 6 – Braydon
Book 7 – Sawyer
Pre-Order Book 8 – Brendon