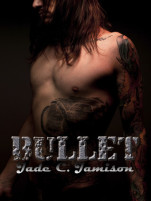 Leave a comment on our facebook page or after this post for an ebook copy of Bullet!  Winner will be picked tonight!
Check out the exclusive scene from Brad's POV below!  Enjoy!
---
5 STARS!!!
Summary
An Epic Rock Star Novel
What if you discover the man you want is toxic?
She tasted a little bit of heaven with him, and now they've gone through hell and back, but can their relationship take anymore?
Valerie Quinn is a naïve college freshman when she meets on-the-rise rock star Ethan Richards. He's an idealistic, handsome, reckless young man, but he's captured her heart. She doesn't give up on him and eventually his walls crumble down. By the time Valerie has given herself to him completely, she discovers he's damaged and may be beyond help. Can she save Ethan and their relationship before he implodes, or will he self-destruct and take her with him?
Denise's Review
Before you even start this book, you know it is going to be something different as it opens with a note to the reader from the author, a story about how Bullet came to be and a heads-up that this is a long book.
Yes, Bullet is long but it is an emotionally engaging and powerful story that is so worth the journey to an ending that will leave you with a huge smile and a full heart.
Bullet tells the story of Valerie "Val" Quinn and starts with her as naive college freshman.  When she meets rock star wannabe Ethan Richards she is introduced to a world of things that tempt her, push her and in the end transform her.
Ethan's world brings alcohol, drugs, and a love of music that is the center to this epic story. Ethan also brings a cast of friends who take Val into their world as one of their own.
Ethan will frustrate you, he will piss you off, he will make you mad and it is this range of emotions that contributed to my 5 star rating. Getting a reader to feel emotions to connect with so many characters is a gift and is a tell-tale sign of a wonderful book.
Ms. Jamison not only developed Val and Ethan into people you feel like you know and wish you could lecture but also build a cast of characters I grew to adore; Ethan's band mates, Brad, Nick, and Zane and a rocker that share a tour with Clayton were all so well done! Each has their own personality and their own bond with Val.
Brad takes a center role in the story and I beyond adored his character; he was patient, kind, loving, compassionate and Brad is so much of what so many woman would want in a man.
The sex scenes in this book were really well done, each was unique and they were used to show emotion and in some cases Val's personal growth.  Ms. Jamison did not rush into the sex scenes but when Val did take that step, it felt true to her character.
Val's personal growth throughout the book also included her sexual exploration and embracing of her sexuality. I truly enjoyed watching Val come into her own.
Val's story becomes so much of Ethan's struggle with his demons, his addiction and his depression.  Ms. Jamison did not minimize the destructive effect of any of these and crafted a real journey for this cast.
I wish I could say more but I truly want to the reader to experience Valerie's journey through all she experiences as she works to deal with a man she so desperately wants to save and the life she wants for herself.
Although there were times I wanted to scream during this story; for me that means the author wrote a wonderful story!!
We are honored to have been given an ARC copy of this story in exchange for an honest review.
Exclusive Scene from Brad's POV – The Arrow
Brad sat at the bar nursing the mug of beer.  His forearm still stung, but it was a temporary irritation he'd grown used to over the years.

He thought back over the past two hours.  He'd been sitting in a chair getting new ink.  He'd asked his tattoo artist to design a new one for him, something that had been begging to be part of his permanent story for a while.  So now he glanced down at his left forearm to look at the spot that stung—the representation of an arrow.  It looked much like what Brad imagined a Native American might have used hundreds of years ago.  It was beautiful and colorful and fit right in with all the other tattoos on his arm.

They all held meaning for him.  One of his first had become part of the montage on his upper right arm when he'd been eighteen.  It was a small banner that was a cliché, but it said MOM.  He'd shown it to his mother to soften the blow that her son had gotten an entire half sleeve of ink in less than two months.  Others were just cool designs that became borders around and between the pictures.  Another in the initial half-sleeve was a bullet, meant to signify the first name of his band.  It was a cool tattoo…dark with no color.  Only his skin created the lighter areas of shading.  But he also had a tattoo of a revolver, and underneath it were the words Fully Automatic.  He'd had that one done just a month or so after meeting the woman who'd stolen his heart…the woman who'd convinced his best friend that Bullet wasn't such a great name for a band.

Turned out she was right.  He hadn't believed Ethan at first, that there were other bands that had that name, but that had been his youthful naiveté.  Of course, other guys would think that was a badass band name…because it was.  When the four guys in the band had been kicking around ideas, things from the absurd to the flat-out weird, Brad had petitioned hardcore for Bullet, telling the guys it was perfect for so many reasons.  It meant they were dangerous.  It meant they were tough.  It meant they were the ammunition for their fans' weapons.  That meant they were deadly.

Brad smiled, remembering that night that he'd convinced his friends.  And then Ethan had whisked Valerie into his life.  What was it about that woman?  What had it been about her then?  Sure, she was pretty, but he'd always been surrounded by pretty girls who wanted to feel like they were dating a not-too-dangerous bad boy.  He'd never understood how he'd gotten that rep.  He had his suspicions, though.  First off, his best friend was Ethan, a guy who really had earned the reputation…between his bouts with drugs, drinking, fighting, and a couple run-ins with the law in high school, not to mention the fact that he'd broken a lot of girls' hearts too.  The only thing Ethan ever seemed to give a shit about were himself, his mom, and his guitar.  Brad sometimes.

So when Ethan had walked into Brad's house with Valerie all those years ago, Brad had expected a girl that was more Ethan's flavor…trashy.  He'd never said anything and hated feeling judgmental, but Ethan usually wound up with skanky girls.  Valerie…she was different.  She was sweet, intelligent, friendly.  But, more than that and something he couldn't understand, he felt like they had some kind of connection.  He'd been drawn to her from the moment she said hi and then stared at the beginnings of what would become a full sleeve on his right arm.

He knew they'd had…something, and for a long time both of them had just pretended like it was a best friendship.  Just a few weeks ago, though, they'd finally consummated that burning, consuming need they'd always had for each other and denied.  That was it, he'd thought.  Finally…years later, they could be together and no one—Ethan included, the guy who'd shit all over her and pissed away any chance he should have had—could say anything about it.

Brad downed another swig of beer.  Exactly how had it happened, though, that Valerie had once more wound up in his friend's arms?  This time, though, they were engaged to be married.  When Ethan was in that coma, Valerie hadn't left his side.  Not once.  She'd hardly slept and they could barely get her to eat anything.  That's when Brad knew she still loved Ethan, even though the guy had jerked her around for way too long.  He'd thought that Valerie was really done with his friend.  She'd broken up with him, had finally had enough, had even dated a good guy who'd treated her well…a guy Brad would have hated to lose her to.  No, Brad hadn't been too happy about that one either, but at least Jet had treated Valerie with love and respect.

So he'd spent the last week watching Ethan somehow pull her back, like she was a fish with a hook in her mouth.  And Brad realized then that what he'd told her all those years ago was true…that he'd wait for her, forever if need be.

While he'd been sitting in the chair earlier as his tattoo artist permanently colored his skin yet again, he looked at that arrow that he'd asked her to draw.  It signified what Valerie had done to him.  Somehow she'd struck him in the heart.  It felt like an arrow, piercing clean through, and if he pulled it out, he'd die.  He knew that.  So he'd be happy just so long as she was in his life.

He'd known Karen had had a crush on him ever since he'd had her ink her first tattoo on him—one of a jaguar on his lower abdomen.  Earlier tonight, she'd touched his arm more than usual, more than she'd needed to, but she'd finally given up flirting.  He knew he'd been sour and quiet.  But maybe he should take her up on her offer.  He was considering it as he knocked back the remainder of the beer in the glass.  He needed something—anything—to drown out the fresh pain he felt from losing Valerie again.  Yep…Karen could maybe be just the distraction he'd need.

And he'd continue to wait.
About the Author
Jade C. Jamison was born and raised in Colorado and has decided she likes it enough to stay forever. Jade's day job is teaching Creative Writing, but teaching doesn't stop her from doing a little writing herself.
Unfortunately, there's no one genre that quite fits her writing. Her work has been labeled romance, erotica, suspense, and women's fiction, and the latter is probably the safest and closest description. But you'll see that her writing doesn't quite fit any of those genres.
You'll have to discover Jade's writing for yourself to decide if you like it.
Make sure to follow author Jade C. Jamison!