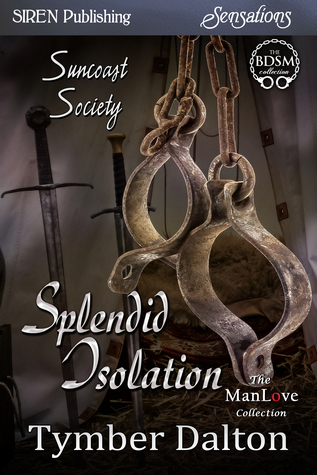 Splendid Isolation

by Tymber Dalton
on February 20, 2017
Pages: 440
Buy on Amazon
Goodreads


Following a humiliating breakup with his abusive ex and business partner, Wylie sells his software company and moves to Florida. He's determined to be self-sufficient and turn his rundown homestead around.

One slight problem—he has absolutely no clue what he's doing. He's in way over his head.

Everett's a skilled artisan metalworker exploring his kinky side. He never went to college, but he's good at what he does, even if he doesn't earn much working ren fair circuits. Enter a job offer from Leo, which solves one of his problems.

When the Viking blacksmith and the computer geek meet over a welding job, sparks fly. Literally. Egos clash between the two fish out of water while their intense chemistry draws them together. With love and sex as hot as Everett's forge, the two men fall hard.

Then Wylie's ex tries to blackmail him back to California. Is Wylie's spine tempered steel? Or will Everett lose his first true love?
I want to start with a shouty cap saying YOU DO NOT NEED TO READ THE PRIOR BOOKS IN THIS SERIES!
Ok now that I said that… I love this series from Ms. Dalton. I have not read all the prior books as I jump in and out of the series as a blurb grabs me, and the one for Splendid Isolation did!
Wylie and Everett were made for each other!  The author used a slow build here not just with them meeting each other, as she allows the reader to get to know each man before they meet each other but also with the sex which may not be what you expect from a series whose theme is a sex club the characters visit but it so works!
Both characters have pasts that affect who they are when the reader meets them and who they are when we meet them.
Make no mistake about it, the pull they have for each other is glaringly clear, the sexual tension drips off of the pages but Everett has them wait and WOW did I love that. When Wylie and Everett finally connect physically it is off the charts hot and laced with deep emotions!
The past does come to visit in this one but how it plays out will never ever having you questioning the love and devotion these men have for each other.
I love LOVED the use of Everett's parents toward the end the book. There was an exchange with his parents that almost had me snorting coffee out of my nose! So good!!
As the story evolves both men not only find their own way in the relationship but also in their careers and life's passions. This for me made the story even better!
I love that Ms. Dalton has now woven some gay romance stories into this series! This is a couple who I hope makes a guest appearance in future books in this series.
It should be noted that I think the love story part of this story is higher than 4 stars but there were a few elements of the book, particularly around Everett's employment that I struggled to understand and had to re-read to get a better mental picture of what was going on.