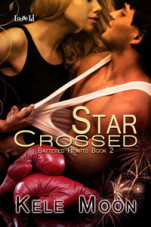 4.5 STARS!!!
Summary
Heavyweight MMA fighter, Romeo Wellings comes from the hard streets of New York where his family ties to the mafia cause him nothing but pain. His life takes a surprising detour when he crosses paths with the twin sister of his long time enemy. After a steamy one-night stand, he faces the fight of his life, but it's not in the cage. The secret relationship that blooms between Romeo and his real life Juliet has him battling his family and a dark past rather than let her go. 


The only lawyer in her hometown of Garnet, Jules Conner is also a volunteer Sheriff's deputy and co-owner of a successful MMA training center. Strong and dependable, Jules is always there for those who need her. Until one forbidden night in Las Vegas with Romeo leaves her feeling so alive she can't stop reaching out to the sexy, bad boy of MMA, even knowing the forbidden love affair could jeopardize everything.


As the tide rises against them and the people they love work at keeping them apart, Romeo and Jules hold onto a dream for a better life together and vow to go down fighting rather than accept a tragic ending.
Denise's Review
The prologue to this book pulled me in right away. Jules and Romeo are hot together and Ms. Moon knows how to get the reader to feel that!  
I enjoyed book 1 in this series, Defying the Odds and I adored this book, book 2 in the series.  I think Ms. Moon is getting better with each book she writes.
At 60% I needed to leave for work – all day I could not stop thinking about what was going to happen next!
I loved that Jules was a professional woman, that she has opinions and said what she wanted.  Ms. Moon did an amazing job showing that Jules was still vulnerable.  When you are a woman that strong it does make sense to question how people perceive you.
It warmed my heart when Romeo assured her that he loved Jules the way she was; strong, independent and very capable of asking for what she wanted!   Their first encounter sets the tone for this, as Jules asks for what she wants and Romeo makes it clear he is turned on by it; I love that!!
Ms. Moon's naming of these characters – Romeo and Juliet was adorable, it fit the storyline and the irony is not lost on the characters themselves.
Romeo Wellings is the rival to Jules close friend Clay Powers from book 1 Defying the Odds. So as their names predict – their families do not want them together.  As this relationship develops in secret, these two battle their pasts as they accept the deep and unexpected connection they feel for each other.
After the first encounter, this couple is physically separated due to career obligations.  Ms. Moon uses hot phone encounters and heartfelt conversations to allow the readers to see these two develop the foundation for a relationship.
As Jules and Romeo spend time together you see that they truly accept each other; their spare in the mat (yes Jules is into martial arts as well) was hot, emotional and layered.  This connection to each other – it almost anchors their souls together. So much fun to read!
Ms. Moon did a wonderful job developing Romeo's character; she created an MMA heavyweight fighter with heart and soul.  This was done not just with Romeo's openly admitting his feelings to Jules but the use of Romeo's brother Tino and Nova was masterful.  The backstory about his care for his younger brother and his continued devotion to them will warm your heart.  I am very much looking forward to Ms. Moon telling Tino's (Valentino) and Nova's (Casanova) stories in future books.
I am so excited for book 3 as Ms. Moon has said Wyatt Conner's story is next!   I am excited to see Jules and Romeo along with Clay and Melody in the background.  The end of this book will leave you wanting to see more of all of these characters as relationships develop and families are formed!!! 
About the Author
A freckle faced, redhead born and raised in Hawaii, Kele Moon has always been a bit of a sore thumb and has come to enjoy the novelty of it. She thrives off pushing the envelope and finding ways to make the impossible work in her story telling. With a mad passion for romance, she adores the art of falling in love. The only rules she believes in is that, in love there are no rules and true love knows no bounds.
So obsessed is she with the beauty of romance and the novelty of creating it she's lost in her own wonder world most of the time. Thankfully she married her own dark, handsome, brooding hero who had infinite patience for her airy ways and attempts to keep her grounded. When she leaves her keys in the refrigerator or her cell phone in the oven he's usually there to save her from herself. The two of them now reside in Florida with their three beautiful children who make their lives both fun and challenging in equal parts–They wouldn't have it any other way.
Twitter  https://twitter.com/Kele_Moon
Website http://www.kelemoon.com
Facebook http://www.facebook.com/kelemoon
Goodreads  http://www.goodreads.com/author/show/4340854.Kele_Moon