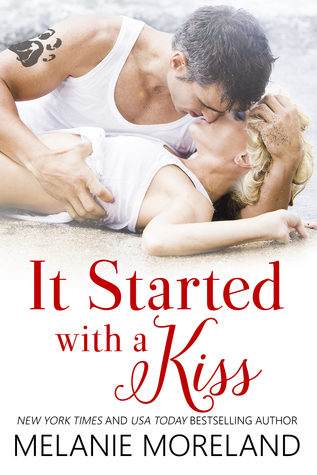 It Started with a Kiss

by Melanie Moreland
on January 23, 2017
Buy on Amazon, Buy on B&N, Buy on iTunes, Buy on Kobo
Goodreads


It started with a kiss.
Then it became so much more.
Love at first sight.
Avery Connor doesn't believe in it.
But what about love at first kiss?
A favor for a friend. Kiss a stranger and walk away.
But what if that favor, and that stranger, prove to be the turning point of her life?
What if that kiss leads to something more?
Dr. Daniel Stewart is certain it will.
He is determined to make her see him. To feel what he feels.
To have the effects of that kiss last forever.
A story about taking a chance, opening your heart to the moment, and falling in love.
I think I need to start backward when reviewing It Started with a Kiss…OMG …. the epilogue, a stroke of genius and one that so suits Daniel. My heart grew even bigger as Daniel's heart filled with even more love. And the smile I had during the reading of this book grew so big I think my cheeks still hurt!
Ok back to the beginning, from the moment I opened this book I loved Daniel, from the first meeting it was clear he has a kind heart but as the story progressed his openness and honesty and how it is soooooo clear his feelings for Avery are DIFFERENT FOR HIM I was completed engaged in this book. It kept me smiling as I read and in the end I think that is how an author gets the reader to believe what they call insta-love. The emotions have to bleed off the pages and the reader has to believe the characters are experiencing something they have never felt before. Ms Moreland does all that in spades in It Started With a Kiss.
Wait I am getting ahead of myself…. It Started with a Kiss is the story of Avery and Daniel, a lovable and caring man who's a veterinarian by day and by the time the reader meets him, a man whose nights are about Avery and wanting to spend more time with this woman who changed his life with one kiss.
I adored Daniel's nickname for Avery, Sprite too cute and the use of the number 3 was masterfully layered in this book all the way to the very end with a touch of fainting in the middle (nope not telling read the book.)
This book created a world that will pull you in. Avery's friend Beth is too funny and both Avery and Daniel's family play parts in moving the story forward and putting context to the emotions and deep connection developing.
Speaking of characters, I would love to see stories for Carter and Dylan and nope I am so NOT telling who they are or why seeing Daniel with Maggie was the perfect end! READ THE BOOK!!!

It Started with a Kiss by Melanie Moreland from Bibliophile Productions on Vimeo.