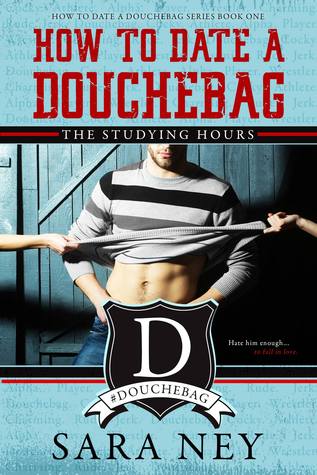 The Studying Hours

by Sara Ney
on September 13, 2016
Buy on Amazon, Buy on B&N, Buy on iTunes
Goodreads


CRUDE. ARROGANT. A**HOLE.
No doubt about it, Sebastian 'Oz' Osborne is the university's most celebrated student athlete—and possibly the biggest douchebag. A walking, talking cliché, he has a filthy mouth, a fantastic body, and doesn't give a sh*t about what you or anyone else thinks.

SMART. CLASSY. CONSERVATIVE.
Make no mistake, Jameson Clarke may be the university's most diligent student—but she is no prude. Spending most of her time in the hallowed halls of the library, James is wary of pervs, jocks, and douchebags—and Oz Osborne is all three.

She's smart, sarcastic—and not what he expected.

…EVERY DOUCHBAG HAS HIS WEAKNESS.

He wants to be friends.
He wants to spend time with her.
He wants to drive her crazy.

He wants…

Her.
The Studying Hours (How to Date a Douchebag #1) is a random book I saw a blogger friend (Maryse!!) talk about that I picked up in the middle of the craziness that is my TBR. Every once in a while I just need a break or to read something that is not scheduled and different and Sara Ney hit the spot with this book!
Pure delicious fun, I had a blast reading this book!  Laugh out loud moments with a sassy, smart heroine and our cocky loveable hero make this new adult college book a total gem and something that is likely overlooked amidst the many books and authors out there.
So what's it about?
Well our heroine Jameson 'James' Clarke hides in the library studying and trying to keep her grades up when she encounters douchebag Sebastian 'Oz' Osborne. Oz is dared to get the nerd in the cardigan and pearls to kiss him and looks can be deceiving as James is anything other than the nerd she first appears to be.
James is snarky and fun and puts Oz in his place and their bantering back and forth kept me in smiling throughout my read. And let's not even talk about the sexual tension that was just HOT *fans self*
What starts of as "friends" will definitely become more and readers will be delighted in a new author to add to their TBR list that writes the male POV really well and takes readers back to college romance that is different and reminiscent of when the new adult category first came out years ago.
I would most definitely read this author again and am looking forward to more follow up stories with the secondary characters in this story. Well done!