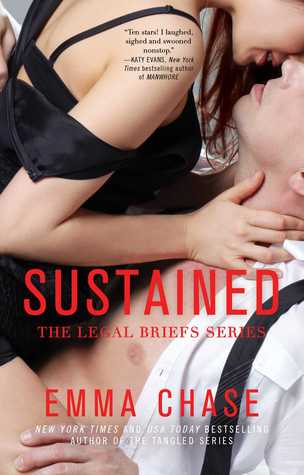 Sustained

by Emma Chase
on August 25, 2015
Pages: 272
Buy on Amazon
Goodreads


A knight in tarnished armor is still a knight.

When you're a defense attorney in Washington, DC, you see firsthand how hard life can be, and that sometimes the only way to survive is to be harder. I, Jake Becker, have a reputation for being cold, callous, and intimidating—and that suits me just fine. In fact, it's necessary when I'm breaking down a witness on the stand.

Complications don't work for me—I'm a "need-to-know" type of man. If you're my client, tell me the basic facts. If you're my date, stick to what will turn you on. I'm not a therapist or Prince Charming—and I don't pretend to be.

Then Chelsea McQuaid and her six orphaned nieces and nephews came along and complicated the ever-loving hell out of my life. Now I'm going to Mommy & Me classes, One Direction concerts, the emergency room, and arguing cases in the principal's office.

Chelsea's too sweet, too innocent, and too gorgeous for her own good. She tries to be tough, but she's not. She needs someone to help her, defend her…and the kids.

And that — that, I know how to do.
I want to start by saying that I love Emma Chase's writing and I was so excited as a I read this book and discovered she returned to an all male POV! Yes, I proclaim yet again that Ms. Chase is the QUEEN of Male POV!
I loved up and coming defense attorney Jake in book 1, Overruled and I loved him even more in this one (though yes at one point I did want to strangle him but in the context of the story it so worked).
Ms. Chase instantly reminded me how much I love the men in this series, the banter between them was epic!
"So…what's the typical schedule with the whole dating thing? How long before one gets to the actual f&cking?"
"Three dates," they all answer simultaneously.
My eyebrows raise.
"Three dates? Seriously? Are you guys, like…more religious than I ever knew?"
And this from Jake was laugh out loud funny:
"I never realized that the downside of getting to know a woman before I screw her is the possibility that I might not want to screw her after I know her. That a personality could have such a devastating effect on desirability. It's depressing. My whole worldview is blown to bits."
Ok back to the  story line of this book…the opening is not what one would expect from a romance novel but that made me love it even more!
Sustained puts Jake in the path of Chelsea McQuaid and her six orphaned nieces and nephews, yes that's 6 minor children and all that comes with them and the crazy of raising children.
Ms. Chase provided each child with their own personality and from a literary standout did an outstanding job of crafting a unique relationship between each one of them and Jake.
The two year old and her one word of "Hi" was hilarious and was used masterfully especially at the end of the story.
I loved the use of the children; I adored watching Jake open up and learn parenting by the seat of his pants.  And watching Jake fall head over heels for Chelsea and her 6 little ones tugged at my heart.
I adored how Jake knew from the onset how much of an impact his relationship with Aunt Chelsea would have on the children:
"You deserve a man who knows what the right thing is, and who does it. I want…Christ I want to be that for you."
Witnessing Chelsea and Jake's lives intertwine throughout the story had me knowing this was the family they were set to raise!  When something threatens that, it put my heart in my throat and had me hoping that Jake would find a way to fix it! "A knight in tarnished armor is still a knight."
But the question becomes, can Jake step-up and be the knight this family needs.. well I won't tell you how it works out but I will say  the "what" that got Jake realizing what he truly wanted out of his life both personally and professionally was so well done. It tied his past to his future and made me want to give him a giant hug!
Oh, I also love how Brent was woven in quietly making this happen!
P.S. I WANT Brent's story, in Appealed (The Legal Briefs #3)  NOW!!!!  http://amzn.to/1avVvXJ
♥READ THE SERIES♥
Book 1 – Overruled
Book 2 – Sustained
Pre-Order Book 3 – Appealed