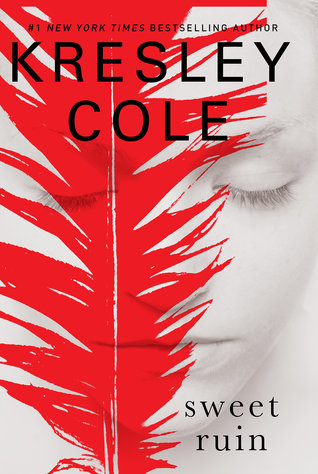 Sweet Ruin

by Kresley Cole
on December 1, 2015
Pages: 384
Buy on Amazon
Goodreads


A foundling raised in a world of humans

Growing up, orphaned Josephine didn't know who or what she was—just that she was "bad," an outcast with strange powers. Her baby brother Thaddeus was as perfect as she was flawed; protecting him became her entire life. The day he was taken away began Jo's transition from angry girl…to would-be superhero…to enchanting, ruthless villain.

A lethally sensual enforcer on a mission

A threat to the Møriør has brought archer Rune the Baneblood to the mortal realm to slay the oldest living Valkyrie. Whether by bow or in bed, he never fails to eliminate his target. Yet before he can strike, he encounters a vampiric creature whose beauty conceals a black heart. With one bite, she pierces him with aching pleasure, taking his forbidden blood—and jeopardizing the secrets of his brethren.

A boundless passion that will lead to sweet ruin…

Could this exquisite female be a spy sent by the very Valkyrie he hunts? Rune knows he must not trust Josephine, yet he's unable to turn her away. Despite his millennia of sexual conquests, he can't ignore the unfamiliar longing she arouses deep within him. When Jo betrays the identity of the one man she will die to protect, she and Rune become locked in a treacherous battle of wills that pits ultimate loyalty against unbridled lust.
If there is anyone who could pull me out of a book funk, I can always count on Kresley Cole. I LOVE the Immortals After Dark Series – sinfully sexy, fun, engaging and with characters that you completely fall in love with. This is a series that all paranormal lovers MUST read as each successive books gets better and better than the one previous.
Sweet Ruin was angsty and thrilling, and the chemistry and sexual tension between these characters was just off the charts WOW! I devoured this book as I have all of the previous IAD books and Ms. Cole proves again why she is a drop everything else and must read author for me.
So what's it about?
Well what we know about the main characters, we can read in the blurb. Jo was an orphan growing up, who has no recollection of her life prior to 8 years old. She lived on the streets with her brother Thad and protected him until one day her life changed forever and she lost the one thing she loved while gaining this supernatural power that she had no understanding of. I have to say that I LOVED Jo! She is strong, yes a little rough around the edges but 100% completely honest and feisty. I knew from the get go that once she and Rune met that she would challenge him like no other.
Rune the Baneblood (half demon/half fae) is a manwhore, an insatiable lover and not only that, he is extremely powerful and always gets his target. And his target now is Nix, the all knowing Valkyrie. Rune is cocky yet withdrawn from all things, unfeeling and so broken because of his past. I hurt for this man despite his darkness because he is the product of his past, he couldn't help how he turned out to be because of all of his suffering.  As I continued to read this book, I could see the many sides of this man, his sweetness and his caring nature, especially with his treatment of Jo. I could sense his conflict and unease yet his want for her.
When these two meet – WOW! For me, it was an instant, mind-boggling connection that touched my very soul. These two people who are both loners, for the first time feeling on both an emotional and physical level. Jo looking for that commitment, that everlasting love – a true partner and Rune not realizing that he can have a mate despite his history and that he is worthy of that love, really had such an impact on my heart. And did I mention that their physical connection was HOT HOT HOT?! *fans self*
There is so much between these characters, more than they even realize and my hope is that they can find their way to each other despite their differences and that they can find that companionship and that forever love with the one person that is meant for them.
So how will it all turn out in the end? Will they end up together or will their differences destroy any future they could have together? And what will happen with Rune's quest to capture the all knowing Nix? Well of course, I won't be telling you but I will say this…..
Kresley Cole continues to be a masterful storyteller – one of the best authors I have ever read. Her world building with this series is just phenomenal and she draws readers in with her amazing stories and characters. After 16 books, I have yet to grow tired of this series and look forward to more stories for the characters that still deserve their stories to be told, their happiness to be found. The Immortals After Dark series continues to be one of my all time fave series and I can't wait to see what happens next!