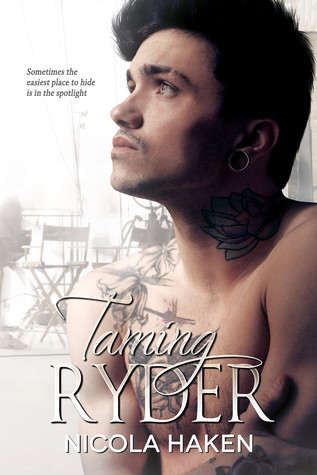 Taming Ryder

by Nicola Haken
on September 29, 2014
Buy on Amazon
Goodreads


You met Ryder Richardson in Being Sawyer Knight. Now, this is his story.

I've done it. I've stuck a whopping two fingers up at my parents, I've made a name for myself as one of the world's biggest porn stars and I've finally found a family I belong in.

Life is amazing. I get paid to do all my favourite things. Fuck. Party. Travel the world. What's not to love?

And then he comes along. Mason George – Back Door Studio's newest exclusive model and the guy who has the potential to either fuck it all up, or take me on the best ride of my life.

~ Ryder

I'm desperate. I've got nothing and nobody left. Entering the daunting world of adult entertainment is less of a dream and more of a necessity. Signing as Back Door Studio's latest model has the ability to either ruin or make me, but I made a vow at my first audition never to let myself regret it.

I continue to question myself each day, but no amount of whats, whys or what ifs will change where I am or where I'm heading. Am I strong enough to do this? To embrace it? To enjoy it? I have no idea.

The only thing I'm certain of, is that if anyone can teach me who I'm supposed to be, it's Ryder Richardson.

~ Mason

"Because the most exciting things in life always happen via the back door"

(M/M erotic romance. Not suitable for under 18's due to language and explicit sexual situations. *Trigger warning* This book contains scenes of self harm which may act as a trigger for people experiencing similar issues.)
Readers meet Ryder Richardson in book 1, Being Sawyer Knight, a book I thoroughly enjoyed.
I was anxious to get to know the mystery that was Ryder and  Ms. Haken did not disappoint. Ryder's journey is a powerful one, one that may break your heart, and hurt your soul for the pain this man experienced as a child (nope not telling you…read the book)
Readers quickly meet Mason George, the newest exclusive model at Back Door Studios because yes readers, Ryder is a gay porn star.  Mason and Ryder meet during an "interview" one where the connection between these two was clearly something different.
Ryder and Mason develop a quick friendship and as Mason opens up about the pain from his past, it allowed me to fall in love with this character on so many levels. Mason's desire to be a friend, a partner to Ryder warmed my heart.
Since I enjoyed book 1 so much, I also truly enjoyed seeing the cast from book 1. Sawyer and Jake with their new profession (not telling again…read the book) and Elle continuing to be a friend to Ryder. And there is Matt, oh Matt; he is too funny and so well… Matt needs a happy too.
The bond Ryder and Mason develop is one the reader can feel and is one that the reader will understand why Ryder is scared as it develops.
There are numerous sex scenes in this book and the author does a really good job at helping the reader feel the difference between sex for the act and sex for emotional connection.
I will not pretend to understand how a relationship works when your "job" is to have sex with others but I will say the author did have me believing Ryder and Mason could and would make it work.
I am very much looking forward to book 3 about Matt and I so hope to see more of this cast as their happy continues to develop.  These characters truly do feel real and live in my heart!
♥READ THE SERIES♥
Book 1 – Being Sawyer Knight
Book 2 – Taming Ryder