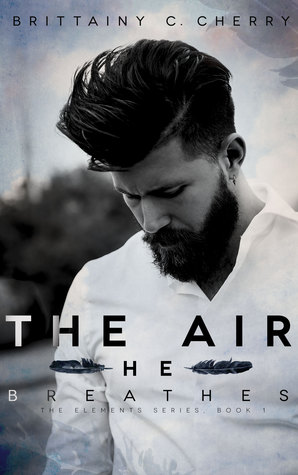 The Air He Breathes

by Brittainy C. Cherry
on September 25, 2015
Buy on Amazon
Goodreads


I was warned about Tristan Cole.

"Stay away from him," people said.
"He's cruel."
"He's cold."
"He's damaged."

It's easy to judge a man because of his past. To look at Tristan and see a monster.

But I couldn't do that. I had to accept the wreckage that lived inside of him because it also lived inside of me.

We were both empty.
We were both looking for something else. Something more.
We both wanted to put together the shattered pieces of our yesterdays.

Then perhaps we could finally remember how to breathe.
The Air He Breathes is a powerful stand alone that touched my soul. This is a #mustclick
I am going to try to relay the wide range of emotions I felt while reading this one without giving away the plot or storyline. The blurb caught my eye the moment I saw it:
I was warned about Tristan Cole.
"Stay away from him," people said.
"He's cruel."
"He's cold."
"He's damaged."
I want to say this is NOT your typical bad boy romance. Tristan has reasons… heartbreaking, soul touching reasons, ones I think many might cave under.
The Air He Breathes is a look into grief, the kind of grief that is all encompassing, the kind of grief that can swallow your soul and pull you under.
I loved that this book was told in a dual POV as both Elizabeth and Tristan have a past, a past that defines who they are and in some sense hinders them from moving forward at least for a portion of this book:
"I wasn't him. She wasn't her. But my God, it felt good to lie to ourselves."
Ms. Cherry did an amazing job at slowly bringing these two together, allowing the reader to experience the slow steps from friendship, to physical attraction, to deep friendship, and finally to love. And I loved that the bridge from attraction and wanting to love took some time as they both have pasts to move forward from.
"Sometimes when I'm cutting the grass and you're sitting on your porch reading your dirty books, I see your face blush when you get to a really good part. That Mr. Darcy must have done some crazy shit to Elizabeth's body. –TC"
This book is well written and I loved how the title weaved into the story:
"As long as air moves in and out of my lungs, as long as I breathe, I will fight for you. I will fight for us."
And this:
"Sometimes the hardest part of existing without your loved one was remembering how to breathe."
The event from the past that almost tears these two apart was one that will have the reader asking can I forgive that… and how this plays out was so well done, adding a plot twist many might not expect. The author then layers this to prove to Elizabeth (and the reader) that Tristan is in it for the long haul (despite prior actions).
I don't want to forget to say I loved Emma, her use throughout the book added to the story. The nicknames that Emma and Tristan have for each other are so adorable (yes I know I don't tell you who Emma is… read the book).
And the feather theme that ran through this book almost brought me to tears a few times (so well done!).
"No! He never takes this long! There's no feathers! We have to go back!"
The epilogue to this one put a tear in my eye and warmed my soul.
Life isn't about what happens to you but what you do with it. Tristan and Elizabeth's new happy wasn't what either pictured but it is so perfect for them!