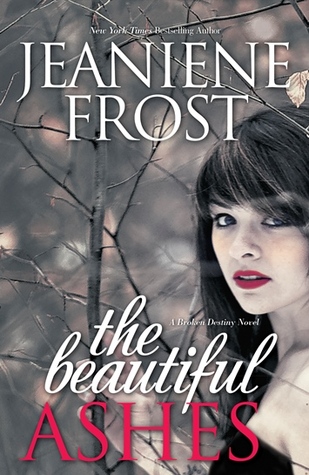 The Beautiful Ashes

by Jeaniene Frost
on August 26, 2014
Buy on Amazon
Goodreads


In a world of shadows, anything is possible. Except escaping your fate. 

Ever since she was a child, Ivy has been gripped by visions of strange realms just beyond her own. But when her sister goes missing, Ivy discovers the truth is far worse—her hallucinations are real, and her sister is trapped in a parallel realm. And the one person who believes her is the dangerously attractive guy who's bound by an ancient legacy to betray her. 

Adrian might have turned his back on those who raised him, but that doesn't mean he can change his fate…no matter how strong a pull he feels toward Ivy. Together they search for the powerful relic that can save her sister, but Adrian knows what Ivy doesn't: that every step brings Ivy closer to the truth about her own destiny, and a war that could doom the world. Sooner or later, it will be Ivy on one side and Adrian on the other. And nothing but ashes in between…
Before I started reading New Adult and Contemporary Romance, I read a TON of Paranormal Romance which I didn't realize I missed until I picked up Beautiful Ashes. I'm a HUGE Cat and Bones fan and didn't know what to expect with this new series. I enjoyed this book…mesmerizing and entertaining, Ms. Frost reminds me of why I need to be reading more paranormal and her books!!
What Ms. Frost does well is building these unique worlds. Beautiful Ashes introduces us to Ivy who at an early age knew that she was different – she could see other realms. Having just lost her parents in a car accident and her sister disappears into one of these realms, Ivy is in search of not only her sister but to find out more about her true self.
Enter Adrian – holy hell ADRIAN! Adrian is one of the only people who can assist Ivy in finding her sister. Mysterious, secretive and of course HOT, Adrian holds back on revealing who he is what he knows of Ivy and their connection. Speaking of their connection – HOT! It was like a tease and I just wanted them to get it on already! lol
As secrets are revealed and Ivy learns that she is a descendant from a powerful line that begins during Biblical Times, the reader is taken on an action packed journey of survival and rescue, of learning about one's self and about the magnetic connection that these two share.
I have to say that much of the banter between Ivy and Adrian had me laughing out loud as well as some of the disguises…I know I am being vague but you have to read it to understand what I am referring to.
Though this is Ms. Frost's first book in the NA category, I considered this more of an upper YA than NA but am looking forward to more sexiness and what I have come to expect from her in the upcoming books…I am definitely look forward to next one and experiencing more of Ms. Frost's brilliance!