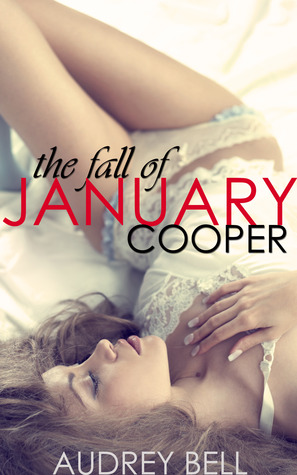 The Fall of January Cooper

by Audrey Bell
on June 17, 2014
Buy on Amazon
Goodreads


How do you lose everything?

Ask January Cooper.

She was the daughter of a Dallas multimillionaire, the debutante of the year, and the girl most likely to get whatever she wanted.

But when her father is arrested for securities fraud, the girl who had everything starts to lose everything. And once she starts falling, she can't seem to stop.

When she walks into Christian Cutlass's bar, she meets the first person who sees all the way through her. And Christian Cutlass meets the first girl who doesn't care about who he used to be and what he lost one night when he was nineteen years old.

She's gorgeous and hurt. He's twisted in too many ways to count. She's the girl with nothing left to lose. He's the boy who lost everything he lived for.

How do you lose everything? You start by falling.
January Cooper has it all – she is rich, beautiful, smart and has a lot of friends. This is all taken away when her father is arrested for securities fraud bigger than the Ponzi scheme and life as she knows it ceases to exist. The friends she once had and relied on no more as she realizes when she looks at her phone to call for help that there is no one there for her like she truly needs.
Everything changes when she walks into a local bar and meets Christian, a former hockey player who has suffered such a loss both physical and personal that he is beyond repair, bearing a guilt that continues to eat away at him for the past 2 years and leaves him a shell of who he once was. My son who is almost 10 years old and plays ice hockey and I bonded with Christian so much as I could feel his pain, his sadness and guilt – I bonded with him not only in a motherly sense as I could imagine what it was like for him to not be able to play a sport that he loves but I loved him as a character because of the layers beneath the man who simply plays hockey, a man who wants to continue to live despite the guilt that he carries on his shoulders.
I adored the relationship between January and Christian – their funny bantering, their sexual chemistry – they are complete opposites but together they work similar to puzzle pieces that just fit.
As the story continues and secrets come to light especially in the case with family, you will learn the extent people will go to for money, greed, and their own personal gain and I will say that as a parent, it simply broke my heart.
In the end, I was proud to watch January's growth throughout this book as she did the right thing for herself and the one person who never let her down and stuck by her side through it all. And that to me is true love. <3
I enjoyed this book by Audrey Bell – well written and engaging. I look forward to reading more from her. 🙂