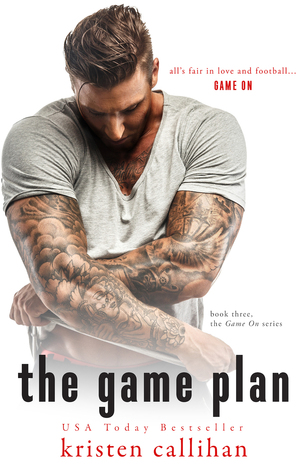 The Game Plan

by Kristen Callihan
on November 1, 2015
Buy on Amazon
Goodreads


A beard-related dare and one hot-as-hell kiss changes everything.

NFL center Ethan Dexter's focus has always been on playing football and little else. Except when it comes to one particular woman. The lovely Fiona Mackenzie might not care about his fame, but she's also never looked at him as anything more than one of her brother-in-law's best friend. That ends now.

Fi doesn't know what to make of Dex. The bearded, tattooed, mountain of man-muscle looks more like a biker than a football player. Rumor has it he's a virgin, but she finds that hard to believe. Because from the moment he decides to turn his quiet intensity on her she's left weak at the knees and aching to see his famous control fully unleashed.

Dex is looking for a forever girl, but they live vastly different lives in separate cities. Fi ought to guard her heart and walk away. But Dex has upped his game and is using all his considerable charm to convince Fi he's her forever man.

Game On
Denise and Christine both read this book and had different opinions regarding the book, so both reviews are posted below.
Denise – 4 STARS!
I want to start by being very clear, I read and LOVED The Game Plan as a stand alone. Though I had seen Ms. Callahan's book posted prior and was intrigued something about this blurb grabbed a hold of me and had me dropping everything to read it.
The Game Plan is the story of NFL center Ethan "Dex" Dexter and Fiona "Fi" Mackenzie a young woman who happens to be the sister-in-law of one of Dex's best friend's Gray Grayson (the male lead from book 2 The Friend Zone). In Dex's mind, Fi has been off limits since he laid eyes on her years ago.
This book pulled me in right away, the first chapter was so well done as the reader can feel Dex's attraction to Fiona. Their first kiss was electric and the easy rapport these two have had me instantly rooting for them.
"I've wanted you from the moment I saw you, Cherry."
The powerful connection Dex feels for Fi is so well layered throughout this story, I adored his nickmane for her calling her "Cherry" and my heart almost burst as he was able to relay each time he laid eyes on her in the past.
Oh and I adored how the banter in this first scene with them together was tied into the very end of the story (nope not telling read the book).
As Dex slowing opens up Fi and to the reader, I was so captivated by the soul of this big man. He truly is a kind soul in a big lineman's body. The way Dex behaved with Fi was different and really touched me; she truly gets to see things about him that no one ever has before. Dex having her call him Ethan and opening up to Fi about things so few know (both emotionally and physically) had me falling in love with him more and more with every page. I challenge any reader not fall in love with Dex!
"I want you badly enough to put all my cards on the table, show who I really am. So I guess it's your play now."
As the blurb states, despite being 24 and a pro football player, rumor has it Dex is a virgin. The author did an outstanding job with this element of the book, as Dex shares his story with Fi about how and why. Not only do you feel their connection grow, your heart will swell for Dex. When these two finally get together you can feel the depth of emotion that Ethan experiences.
"Didn't seem to want anyone else," He whispers. "It had to be you."
I also want to add that I love how this element was woven into the plot and the final challenge this couple faces as it was so current and so raw, your heart will break for both Fi and Dex as sometimes you can't fix things you just need to figure out how to move forward.
The way the struggle at the end the story played out was so true to each character and truly spoke to how much that forever person truly changes who you are deep into your soul.
Ethan's dealing with all his new found emotions, was so powerful; Fi's reaction to that is pure love.
Thank you Ms. Callihan for a wonderful read, one that I read with Sunday football playing in the background and a smile from ear to ear.
I had no issues following this story or understanding who was who, so if this one grabs you as much as it grabbed me #1click The Game Plan now! Ethan Dexter will not disappoint!
Christine's Review – 3.5 "Fear the Beard" STARS!
I have loved The Game On series since the very beginning. Each successive book focusing on a different friend within this very athletic bunch. I couldn't wait to get Dex's story and while I really enjoyed getting into his head and getting to know this character and his love interest, sadly this book fell a little short for me.
So what I really enjoyed in this book was the no drama, no angst, mature take on a relationship that has been building over time. Dex and Fi having met in previous books, have always had this underlying attraction between them.
Dex, for reasons you learn while reading the book never pursuing her until now – when both he and Fi are in San Francisco visiting Gray and Ivy to help out with taking care of their newborn baby.
I have to say that I really enjoyed seeing Dex in this almost Baby Whisperer type role, knowing what to do to help these new parents deal with the newborn stresses of lack of sleep, lack of alone time, etc.
While I don't mind reading about a virgin in books, and totally understanding where he was coming from with his past, I didn't buy into the piercings and tattoos and coping mechanisms he used to fight his urges. And not only that, but that once this relationship moves to another level how "experienced" he is overnight. Though I would be remiss if I didn't mention that Kristen Callihan knows how to write steamy love scenes that really make you melt! <3
Regardless of this small detail that didn't work for me, I thoroughly enjoyed Dex and Fi's book. For me, Dex has always been different – that forever type of guy. And The Game Plan showed the reader how there were so many layers to this man besides football – mainly his honesty and heart of gold coupled with his sweet and endearing words and personality.
This is a book about a relationship surviving the distance and how this couple will choose to work at it despite the hardships and find a way to compromise and really make it work. This is a couple that will choose each other over all else and I truly enjoyed the ride.
"Just know I'm with you. Even when I'm far away, I'm with you."
♥READ THE SERIES ♥
Book 1 – The Hook Up
Book 2 – The Friend Zone
Book 3 – The Game Plan