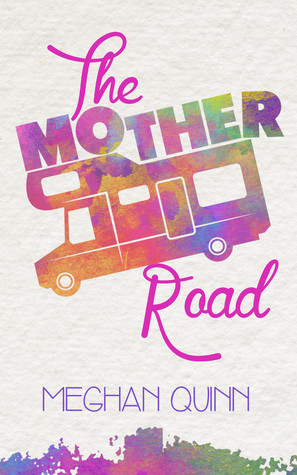 The Mother Road

by Meghan Quinn
on January 12, 2016
Pages: 273
Buy on Amazon
Goodreads


Never in a million years would I have pictured myself as an axe-wielding, dragon lady, chopping up multi-colored flannel shirts into my very own plaid mulch. But here I am, chopping away my frustrations.

It all started when my brother, Paul, convinced me to go on one last family road trip across the Mother Road with him and my dad.. Just like old times, right? Wrong. What Paul fails to mention is his best man, Porter, will be joining us, who just so happens to be my childhood crush and the man who broke my heart four years ago.

What is supposed to be a fun, family bonding experience across Route 66 turns into a war of pranks, awkward moments and bathrooms full of dirty flannel shirts and day old beard clippings. Paul's know-it-all attitude and Porter's devilish charm brings me to the brink of my sanity on my seven day trek across the United States with three bearded men in a small 1980's RV.
I am going to start with a confession – I don't think I have laughed this hard reading a book in a LONG FREAKIN TIME!
The Mother Road is a breath of fresh air amongst the stories that have been done before. And not because the story in itself is something new – no, this is a second chance love story which in itself I am a huge fan of. But the way that it was executed, the way that it was written, and every damn Abraham Lincoln word made this such a fun, exciting, sexy and sweet read that put a huge smile on my face. (If you read this book, you will understand my use of a president's name haha)
So what's it about?
Well, beauty blogger Marley McCann, her dad Bernie, and her brother Paul are traveling the mother road in an old RV while remembering their youth and celebrating Mama McCann's life prior to Paul getting married. When an unexpected traveler joins their group, Paul's best friend Porter, I know I am in for a journey I won't soon forget.
With their crazy antics, prankster jokes, real life facts about history and things I can never erase from my memory (and let's not forget the Dick slogans and Paul's screaming like a girl moments – omg I am dying laughing right now!) – this ended up being so much more than just your typical love story.
You see Marley has such deep rooted anger for Porter from their youth. Yes, he is her brother's best friend and technically as the sister she is supposed to be off limits, but when they were younger there were feelings that developed and something that happened that neither Porter or Marley could ever forget (or in her case forgive).
What Marley doesn't realize until this trip is that Porter had reasons for what he did and when those reasons finally came to light, I couldn't help but fall completely in love with this man. Because in truth, though he didn't give her a choice, he did the right thing to let her go and grow up and to do what she was meant to do without holding her back. A good man is not selfish and doesn't think of himself and Porter is a true gem.
I know I am being somewhat vague about this book but quite honestly, you just need to read it.  It's all things romantic, and sweet, and honest and it will touch a piece of your soul – I promise because it did for me. Porter is a really special man, Marley is one of the best heroines I have read EVER, and the secondary characters are pure delight. The Mother Road is pretty freakin amazing and it's a MUST READ for 2016!
Thank you Meghan for giving readers something so special, so funny and so extraordinary! I will never forget this story and it is another Top Fave of 2016!