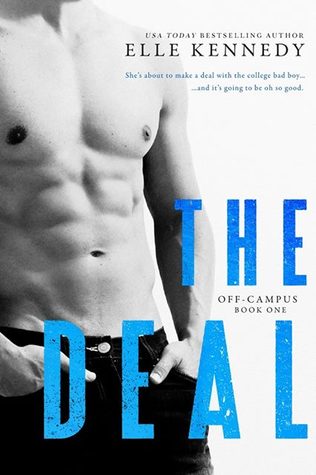 The Deal

by Elle Kennedy
on February 24, 2015
Pages: 358
Buy on Amazon
Goodreads


She's about to make a deal with the college bad boy...

Hannah Wells has finally found someone who turns her on. But while she might be confident in every other area of her life, she's carting around a full set of baggage when it comes to sex and seduction. If she wants to get her crush's attention, she'll have to step out of her comfort zone and make him take notice…even if it means tutoring the annoying, childish, cocky captain of the hockey team in exchange for a pretend date.

...and it's going to be oh so good.

All Garrett Graham has ever wanted is to play professional hockey after graduation, but his plummeting GPA is threatening everything he's worked so hard for. If helping a sarcastic brunette make another guy jealous will help him secure his position on the team, he's all for it. But when one unexpected kiss leads to the wildest sex of both their lives, it doesn't take long for Garrett to realize that pretend isn't going to cut it. Now he just has to convince Hannah that the man she wants looks a lot like him.
Hannah is a music major in her junior year of school. She is quiet, reserved and smart and totally drooling over the new football player at her school Justin. Above all these things, Hannah is tough because of her past experience with guys and I have to say that I immediately bonded with her and liked her as a character.
Garrett is a hockey player, a chick magnet who is having troubles in school maintaining his grades. He is smart but plays up the dumb facade to get the girls. Despite this, Garrett has always had one thing on his mind — hockey; to make it to the pros and make something of himself. You see, Garrett's dad used to play pro hockey and no, Garrett isn't trying to follow in his father's footsteps but to surpass him as a player and person because you, the reader will learn that Garrett's dad isn't father material or someone to ever aspire to become.
So Garrett has to maintain his grades in all of his classes and looks to Hannah for help and wants to make "a deal" – he will help her to become the unattainable girl, the popular girl, the girl that men want and can't have simply because she is "dating" Garrett and in return Hannah will help him pass his class.
But as lines are crossed and emotions and attraction get in the way, will "the deal" become something even more than both Hannah and Garrett bargained for???
You will have to read this one to find out!
I know I am not saying much about the story as I think that the reader needs to experience this on their own but some things that I would like to make note of…
This was my first experience reading Elle Kennedy and I really enjoyed The Deal. This particular story of "friends becoming more" has been done before and isn't something new in the New Adult genre. But what Ms. Kennedy did was restored my interest in New Adult by giving me a fresh look. Not only with her seamless writing, the laughs, the bantering and easy going nature of this fun relationship between Hannah and Garrett but in the way that she totally captivated my attention. Ms. Kennedy gave me just the right amount of everything – hot sex, friendship, and romance all combined and layered together to really give me something that I enjoyed reading; not wanting to stop until I got to the very last page. And when I closed my kindle I had a complete sense of satisfaction and warmth in my heart for two characters who were so obviously more than just friends; people who were so realistic that I wanted to know them and be friends with them too 🙂
I look forward to reading more from Ms. Kennedy and reading more in this series! Can't wait!
P.S. So it's also no secret that Denise and I are both hockey moms to young boys…I have to mention that this was my first hockey story (though Denise has read several) and I truly enjoyed it…so relatable and just fun! I do look forward to reading more books about hot hockey men in the future!
We wanted to get to know Elle Kennedy more and asked her for the Top 5 Things readers should know about her, her writing and The Deal…here is what she had to say.
The very first scene I wrote for The Deal was the sex scene. I was working on another book at the time, but I couldn't get this idea out of my head, so I took a break, wrote the Hannah and Garrett sex scene, and then put the book on the shelf for many, many months. This is the first time I've ever written a book without starting from Chapter One.
When I finally had some free time, I decided to write The Deal just for fun. It took 2 or so weeks to write.
Hmmm…what else…everyone pretty much knows I'm a big dork and love my dog. So…what don't we know…how about this? I'm an avid fantasy football player, and have won 2 league championship titles!
I'm a Bruins fan living in Toronto. Somehow I'm still alive.
My first published book—Body Check—had a hockey player hero, and I've been waiting years to write another hockey hero. But I also wanted to write a football hero. So when I was deciding which sport Garrett from The Deal should play, I flipped a coin. Heads was hockey, because they both start with an H. And heads it was!