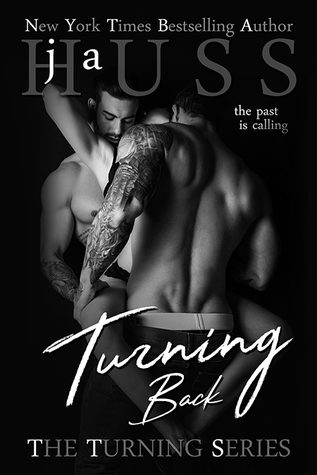 Turning Back

on April 12, 2017
Buy on Amazon, Buy on B&N, Buy on iTunes, Buy on Kobo
Goodreads


I lived in the dark for three years. My whole world revolved around the whims and happiness of three men. It was just a trip into the forbidden. A way out of a bad situation and forward into nothingness.

Quin, with his easy smile and charming good looks. He was always there for me... Until he wasn't.

Smith, and his dispassionate attention. He was never there for me and he never regretted it.

Bric, the one who listened, but only to himself. Self-absorbed, self-obsessed, and self-serving. He was never the one I wanted.

And now he might be the only one I have left.

It was good while it lasted, I guess. But it could've been so much more. It could've been so much better.

And that's why I'm turning back.
I loved TURNING BACK … I think I need to say that again just so I know you heard me, I LOVED this book!
Ok now before you pick up this book, you need to pause and make sure you have read Taking Turns book 1 in the series!
If you have not read Taking Turns, stop reading this review, drop any book you are reading and go 1-click it!  Taking Turns is a 5 star uniquely orignal story told in 4 yes 4 POV; trust me it works.
Fair warning…. the rest of this review will spoil Taking Turns so stop reading unless you have read book 1.
Turning Back drew me in from the moment I opened it. I was pulled right back into these men's lives, yes I say men's lives as the books starts out allowing the reader to check in on Bric, Smith and Quin. I loved seeing how they were doing in the aftermath of Taking Turns.  The author did a wonderful job at laying out why things were the way there were.
When Rochelle steps back in the picture, this book gets even better and oh yes it gets hot as well.  The sex was off the charts hot and also layered into the story.
Why these men play the game was explained well here with backstory I loved!
I loved how Smith never really left the picture, he truly has a deep connection with Bric and Quin and there are few great scenes with them.  These men have played a game for so long and the fact it doesn't go away when one meets a woman felt so true to the world crafted.
Speaking of world crafted, how the Taking Turns worlds moves forward in light of love added to my enjoyment and really brought true character development. Oh and I loved Quin's Mom and Uncle Elias (nope NOT telling read the book).
In the end I loved how the story unfolded and I am so excited for book 3 HIS TURN in July http://amzn.to/2nFm7AE.  Because WOW does he ever need HIS TURN!

Rochelle pulls me into them like I belong there. Rises up on her toes and kisses me on the mouth. Our tongues tangle together, the sweetness of her wine mixing with the citrus of my brandy.
Quin joins in. No hesitation.
I have missed his mouth, I realize. I have missed these moments. And Chella just wasn't the same. Chella was new and inexperienced. A novice in the game of Bric and Quin. Rochelle is a professional. The three of us together are the definition of team.