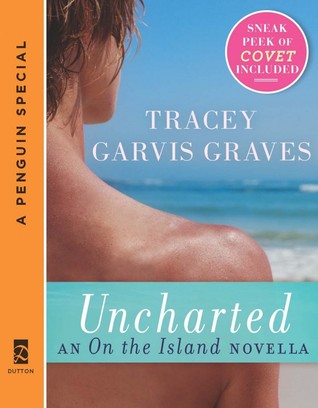 Happy Release Day to Tracey Garvis-Graves and her new novella Unchartered. This is a must read and must buy for you On the Island fans!!!

---
5 STARS!!!
Synopsis
Tracey Garvis Graves – and Anna and T.J. – return in this companion novella to the New York Times bestseller On the Island
When twenty-three-year-old dot-com millionaire Owen Sparks walked away from his charmed life, he had one goal in mind: get as far away as possible from the people who resented his success, or had their hand out for a piece of it. A remote uncharted island halfway around the world seemed like a perfectly logical place to get away from it all.
Calia Reed wasn't part of Owen's plans. The beautiful British girl – on holiday in the Maldives with her brother, James – made Owen wonder if getting away from it all might be a lot more enjoyable with a carefree girl who didn't know anything about the life he left behind.
But Owen had no idea how much his carefully detailed plans would go awry. Nor did he realize that a decision he made would have such a catastrophic effect on two passengers who boarded a plane in Chicago.
And when Owen shows up at Anna and T.J.'s door with an incredible story to tell, everyone involved will learn just how much their lives are intertwined.
Uncharted includes an early look at Covet, coming September 2013.
Christine's Review
It's no secret that On the Island was one of my favorite reads of 2012 (or really ever!). Tracey has this way with her writing that sucks you in to experience all the love, the emotions and feelings, and most of all the beauty of what she creates. When she announced that she had a little novella coming out, there was no doubt in my mind that I would be reading it ASAP.
Owen Sparks arrives at T.J and Anna's home and has a story to reveal to them. Already, I am feeling both nervous and excited to hear what he has to say.
All I will tell you about Owen is that he also previously lived on the same island as T.J and Anna. But his circumstances were different and he was willingly there. Tracey took me to this island again and I can imagine this man living there alone as I read through his journal entries. I don't want to reveal too much of this story as I feel that you need to read it to get the whole overall effect. I experienced many emotions as I read Owen's thoughts – I felt sadness and heartache and I even felt love. In one instance I even had the same ominous feeling that I felt for T.J and Anna.
I truly enjoyed this novella and almost wish for a longer book only to be able to savor more of these characters. I felt that a lot of my questions were answered from On the Island and I felt even more love for these characters than ever before. I loved going back and seeing Anna and T.J again. It was hard for me to remember the circumstances that brought them to the island but it warmed my heart to see where they are today. I firmly believe that in life, everything happens for a reason. They are where they are today because of the experiences they have been through and as T.J and Anna say – What's done is done. Live life with no regrets. It could have been so different for them but then they would be living a totally different life today. And though what they went through was hard, I am glad they are together because this is true love at its finest.
You will not be disappointed in Owen's story as it connects them all together and you will again experience the magic that Ms. Graves writes…well done! This is a must buy!
About the Author

Tracey Garvis-Graves is the author of On the Island and Covet. She lives in a suburb of Des Moines, Iowa with her husband, two children, and hyper dog Chloe. She blogs at www.traceygarvisgraves.com using colorful language and a snarky sense of humor to write about pop culture, silly television shows, and her suburban neighborhood.
Book 1 – On the Island – 5 STAR MUST READ!