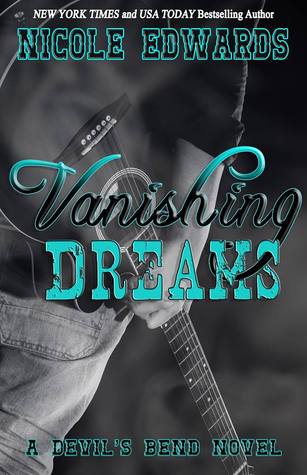 Vanishing Dreams

by Nicole Edwards
on October 21, 2014
Buy on Amazon
Goodreads


Dalton Calhoun hadn't always planned on a life up on the big stage, beneath the bright lights, but that was where he found himself. A second chance of sorts. An opportunity that had come along after his real dreams vanished when he was eighteen years old. Although country music was more than he could've expected, he'd never dismissed the notion that there was still something missing.

When Dalton followed his buddy Cooper Krenshaw to Devil's Bend, Texas, it didn't take long before Dalton realized just what that was. But just because he has topped the country music charts, and made his fair share of women swoon, doesn't mean that everything comes easy to him. And when he sets his sights on the black-haired, gray-eyed waitress at The Rusty Nail, Dalton realizes he might just have to work for what he wants.

Katie Clarren's life has been a series of unfortunate events, starting from the time her mother left on her eighteenth birthday. Not exactly how she had planned to spend one of the major turning points in her young life. Nor had she planned to spend the next five years dealing with the fallout. Somewhere along the way, Katie adapted, doing exactly what she needed to do in order to survive. But Katie has secrets that even her closest friends don't know. Secrets she has worked hard to protect.

Although she longs for handsome, charming, country music sensation, Dalton Calhoun, she knows that anything that starts between them can't last. Too bad her heart doesn't seem to be on the same page. Katie gives in to her love for Dalton, needing that human connection that has been missing for so long. But when it comes time to make the hard decisions, Katie forces herself to walk away from him. To protect her secrets, and him. The last thing she wants to do is hurt Dalton, no matter how much pain she has to endure in the process. She loves him.

Can the two of them overcome the secrets and lies? Can they look to the future and stop living in the past? Or will they keep dwelling on the dreams that vanished, not seeing what is right in front of them? Each other.
Vanishing Dreams can easily be read as a stand alone it is the story of Dalton Calhoun, the best friend of Cooper Krenshaw who the reader meets in Chasing Dreams (If you have not read Chasing Dreams, I do recommend it as Christine and I both LOVED this book!).
Anyway back to Dalton, it is made clear to the reader from almost the first page that Dalton is smitten with Katie Clarren. Katie is a waitress in the local bar, the Rusty Nail. It is also clear to the reader fairly early on that Katie is hiding something. The heat between Katie and Dalton will light up your kindle as the physical attraction these two share is undeniable.
The reader is pulled into the town of Devil's Bend as this cast builds new life. Shh… this books provides the reader with glimpses of Braydon Walker; yes I was happy to see him and yes I was sad to see him so lost, I am very curious to see how this all ties into Braydon when the next Alluring Indulgence book releases but I digress. As the reader feels the connection deepening between Dalton and Katie, it becomes clear that she going to pull away. The reason why is unclear to the reader at first.
The unfolding of her secret allows the reader to understand Katie's why though it still broke my heart for her. I will not be sharing any of the secrets as I think it is best the reader experiences them as written.
Ms. Edwards brings the reader more characters to love in this one. I loved Lexi, the use of this secondary character moved the story forward, touched my heart and in the end helped prove happy is about making it work! (no I am not telling you who she is as I said there are a many thing in this book best left for the reader to discover).
I loved the end of this book. The final one-third of this book was so well done. I truly loved Dalton and the how this all comes together was a perfect happy for these two.
Katie, who had so much to deal with, a past that one wouldn't wish on any teenage girl had a happy that was more than she dreams.
I want to end again by saying I am so excited for Jack's story, I truly hope he is next as this big quiet strong man needs his happy!
♥READ THE SERIES♥
Book 1 – Chasing Dreams
Book 2 – Vanishing Dreams