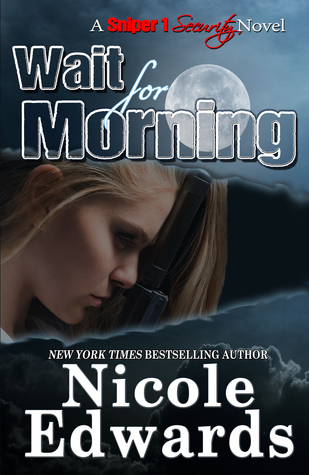 Wait For Morning

by Nicole Edwards
on April 7, 2015
Pages: 540
Buy on Amazon
Goodreads


Trace Kogan will go to any length to protect those who need protecting. That is the business he is in; the business his father, Casper Kogan, started with Bryce Trexler more than thirty-five years ago. Trace spends day and night eliminating threats to clients, so when the danger hits too close to home, he won't let anything come between him and the woman who desperately needs his help.

His fear… the physical reaction he has to Marissa may pose a bigger danger than the ghost that they find themselves up against.

Marissa Trexler has spent the last twelve months of her life in hiding, tucked away in one safe house after another for her own protection. The threat to her is real even if the reason is still unknown. Strangely, whoever is after her seems to find her no matter where she goes, leading her family to believe it's an inside job.

So when the decision is made that Trace will provide personal protection, she can't say no, even if being close to him adds another level of danger… and this one is to her heart.
Wait for Morning was such a wonderful start to a new series. Ms. Edwards introduces readers to not one but two families… well two then three families. You see Ms. Edwards' magically creates a world that sucks the reader in. First, the reader is introduced to members of the Kogan and Trexler families in true heart pounding suspense and then as the story for this romantic suspense continues, the plot weaves in the Adorite family.
Wait for Morning is the story of Trace Kogan and Marissa Trexler.  These two grew up together as their fathers are best friends and the founders of Sniper 1 Security.
The connection that Trace and Marissa have is a long time in the making and Ms. Edwards does a wonderful job allowing the reader to feel the why now, why now is the time they both give into the attraction.  Oh when these two do connect in typical Nicole Edwards fashion it is burn up your kindle HOT!  I also want to add that the I love you moment in this one was so powerful.  And the wonderful about this being a family saga is we get to continue to see Trace and Marissa as the series moves forward.
The suspense part of this plot was well done; though it is not a genre I read often, I thoroughly enjoyed this one and how the suspense wove into the romance and development of this family saga. Because yes so many of these families become a part of the story.
Ms. Edwards' does an amazing job crafting so many unique characters, sprinkling in just enough about them that it will having you wanting to know all about each of them. I, for one, can't wait to read about Clay, well and Hunter and oh Ryan and Z!
As you can tell, while I was reading this book I was so torn as to which member of this cast I wanted to read next. That was until the epilogue and then it was clear I wanted Max and Courtney's story like yesterday!
I was thrilled when Ms. Edwards announced their story Beautifully Brutal would be book 1 in a new series titled Southern Boys Mafia.
After you are finished with this book, you are going to want to 1-click Beautifully Brutal, book 1 Southern Boys Mafia series http://amzn.to/1P5VLwp
Thank you Ms. Edwards for not only 1 series to add to my to read list, but TWO!