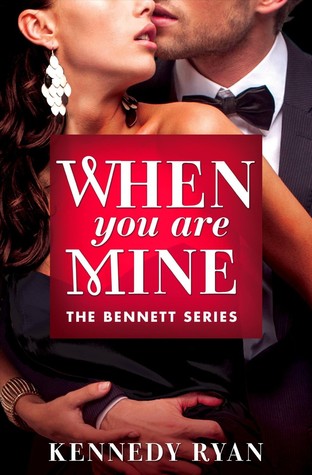 When You Are Mine

by Kennedy Ryan
on June 17, 2014
Pages: 320
Buy on Amazon
Goodreads


Forever is a heartbeat away . . .

Kerris Moreton knows how to make things work. Bounced from foster home to foster home as a kid, she adapted; when opportunity arose, she thrived. Now, about to open her own business and accept a marriage proposal, Kerris is ready to build the life she's always wanted. The only thing missing? A passionate connection with her would-be fiancé, Cam. Kerris wants to believe that sparks are overrated-until Walsh Bennett lights her up like the Fourth of July.

. . . but what about love?

As one of the East Coast's most eligible bachelors, Walsh enjoys financial independence, fulfilling work with his family's nonprofit, and plenty of female attention. But lately he's been distracted by the one woman he can't have. Lovely to look at and even sweeter to know, Kerris is the soul mate Walsh never thought he would find. The problem is, his best friend found her first . . .
Wow! This is a debut novel from Kennedy Ryan that I truly enjoyed and it sucked me in right from the prologue listening to a man give his best man's speech to a man who is basically his brother and the woman he loves!
I was so excited to read this book as it came highly recommended from my author friend Claire Contreras and I trust her opinion whole heartedly.
I am not going to lie and be totally honest when I say that I enjoy love triangles, angst, and characters who are so different from what I normally read and Ms. Ryan totally delivered.
Kerris and Cam both grew up as orphans but they find each other and form a relationship built on trust and friendship and deep caring for each other.  While Cam wants to get married Kerris isn't quite ready yet.  I adored Kerris – her kindness, sympathy, sweetness and full of goodwill.
Its only natural that powerfully rich with a heart of gold, Walsh Bennett, will fall for her at first sight.  Not realizing that she is the girlfriend to Cam, his best friend and almost brother, we the reader know from the get go that this is a recipe for disaster.
The burning attraction that Kerris so desperately wants when she is with Cam is absent but is present in her every interaction with Walsh.  Knowing how wrong it is from both sides, Walsh and Kerris will do their best to stay away from each other but it is apparent that fate and destiny have a play in their lives when they are constantly thrown back towards each other time and time again.
So how will it play out and who's love will Kerris reciprocate in the end?
I know it's soooo wrong, but I rooted for Walsh from the get go.  Both men being so good for her in different ways, for Kerris it will be a hard decision to go with what's right vs. what her heart desires.
Who will win in the end?  You will have to read the book to find out 🙂
I enjoyed that the author took risks in this book.  I enjoyed that Kerris was an orphan which is a different spin on the norm and we don't know (along with her) where she comes from. I loved that the characters had real flaws yet it was so easy to love them all.
Yes it ends in a cliffhanger so be prepared…thankfully we don't have too long to wait for book 2 to see how it will all go.
There were some parts of the book that I didn't enjoy hence my 3.5 star rating.  Some actions by the main characters didn't make sense to me because it was vastly different than the characters who were created from the beginning, maybe adding some additional drama, etc to make the story line/plot work out better.  I would have also liked more steam/connection between the characters to make it seem more real to me.  It's one thing to tell me but I wanted the author to show me, so that I could feel it emotionally and within my heart.
Regardless of this, I will definitely read book 2 as I would like to see where it goes.