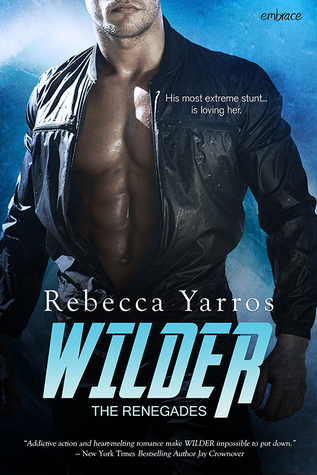 Wilder

by Rebecca Yarros
on September 19, 2016
Buy on Amazon, Buy on B&N, Buy on iTunes, Buy on Kobo
Goodreads


He's Paxton Wilder.

Twenty-two-year-old, tattooed, smoking-hot leader of the Renegades.

Five time X Games medalist.

The world is his playground—especially this year—and for the next nine months I'm stuck as his tutor on the Study at Sea program.

He's too busy staging worldwide stunts for his documentary to get to class.

But if I can't get him to take academics seriously, I'll lose my scholarship…if I don't lose my heart first.

Six unlikely friends on a nine-month cruise with the Study at Sea program will learn that chemistry is more than a subject and the best lessons aren't taught in the classroom…but in the heart.
I enjoyed my first Rebecca Yarros book. This book was wildly entertaining, exciting with the extreme stunts and I loved the idea of a year at Sea traveling the world while the Renegades performed their stunts.
Paxton Wilder is adventurous and cocky and in need of a tutor – Enter Eleanor (Leah) Baxter. Leah has a history of her own that prevents her from truly living and I enjoyed her interactions with Paxton – his need to get her to live her life while also trying to win her heart.
Where this book lost me a bit was that I felt it was too long and sometimes felt myself skimming because I lost interest. It took me 10 days to read this book and that is not normally how I read books. While I enjoyed watching them fall for one another, I didn't love the constant references about sex and being so attracted to one another; I liked that Paxton was a romantic but sometimes I felt like all of this combined was a bit overdone and unrealistic.
I love different so I enjoyed this take on the college experience. I am very much looking forward to Nova and getting Landon's story.