Here is a dual review of Retreat Hell! She Just Got Here (Always a Marine #2) and No Regrets, No Surrender (Always a Marine #6).  Enjoy!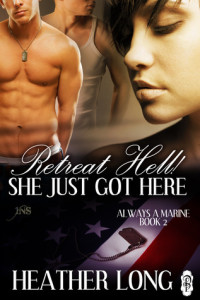 4 STARS for BOTH!!!
Synopsis
She's one of the few…
Jazz has been one of the guys for over a decade, serving her country with distinction, but she longs to explore her femininity, to be desired as a woman, to flirt, cavort and fulfill every sexual desire.  When her mother, of all people, signs her up for a 1Night Stand, she's not sure whether to be exhilarated or pissed.  She flew all the way to Las Vegas on the promise of a total escape, to be Jasmine for just one night, because tomorrow, she plans to re-up for another five years.
They're two of the proud…
Logan Cavanaugh grew up across the street from his best friend and 'brother' Zach Evans. Inseparable, the two shared everything until a year before when an IED attack took out the Humvee they traveled in with Colonel Dexter. Zach suffered a concussion, but Logan's injuries were far more extensive.  After a year of physical therapy, he can walk, but he'll never run or love a woman again, or so he fears.  Logan seemed ready to accept his impotence until Zach came home. Now the 'brothers' are in Vegas to meet the perfect woman, the woman who can heal Logan's confidence and masculinity.
They're all Marines…
They've shared everything, but will one night be enough?
Synopsis
At the end of their night of frenzied passion, Jazz Winters walked away from the only two men who'd ever made her feel like a woman. Logan Cavanaugh and Zach Evans let her go, but only if she swore all her future leaves to them. For fourteen, excruciatingly long months, they've waited for her, visiting when they could, but the demands of Mike's Place only let them go one at a time.
Jazz's fear that a ménage can't last a lifetime is founded in her very middle-class, middle-American upbringing. The stress of years of military service in hot zones, combined with life-threatening injuries, pushes her to the edge. When she comes home, she's the wounded warrior, not the woman she thinks they want. But Zach and Logan are right there to help her, even when she resists. She's not alone. And whether she chooses one man or both, they have no regrets and they won't surrender.
Denise's Review
Ok so I know it seems odd to review two books in a series out of order; but these two books tell the story of Logan Cavanaugh, Zach Evans and Jasmine Evans and you will want to read them as a pair!
Retreat Hell! She Just Got Here is part of Heather Long's Always a Marine series as well as Decadents larger 1Night Stand series.
Jazz, has been a Marine for over a decade and it is her life and she loves serving her country. While on leave she decides to explore her femininity, and her deepest sexual desire, a menage.
The 1Night Stand service, sends her to Las Vegas for a one night fantasy before she re-lists with the Marines for another long tour.   Jasmine knocks on a hotel room door that puts her face to face with two men who grew up as brothers and are best friends until the end.
The readers learn that Logan Cavanaugh and Zach Evans have been to hell and back.  Logan was severely injured serving his country and Zach put his life on hold to help his friend rebuild his life.
A year later – this evening is Zach's way to help Logan regain his sexuality, something Logan fears is long gone.  The chemistry between the three is tangible and Ms. Long did an amazing job showing vulnerability  in each. Logan's hesitation will pull at your heart strings as this Marine, who gave so much to his country, fears he won't be able to love a woman again.
There is  scene when Logan knows he can move forward that will have you grinning from ear to ear.
Zach is a man who would do anything to bring the smile back to friend's face and put the fire back in his eyes. His emotional connection to Logan is powerful and his desire for Jazz is something that he embraces almost instantly.
These three have no idea they are all Marines but is a tie that binds and serves for a level of respect that is felt deep and is almost unspoken.
Jasmine gets more than she bargained for as these men open with a game of truth or dare to break the ice and end the evening with.
You will have to read these books to find out what happens.
I will say that immediately after ending this book I picked up as you will want to Book #6 in the Always a Marine; Series No Regrets, No Surrender.  No Regrets, No Surrender takes place months after the evening in Retreat Hell.  In the month between these books has Jazz Winters returning to active duty in the Middle East and Logan and Zach working to build their lives outside of the Marines while staying in touch with Jazz.
When "the call" comes the men's life are turned upside down, they know they are deeply affected by Jazz and are determined to do whatever it takes to make her theirs, yes theirs, Logan and Zach know they want to share Jazz.  Jazz returned to her men wounded, both physically and emotional. Mss Long did a masterful job using this injury to move the story forward, develop relationships while also retelling Logan's journey back from his injuries.
Jazz's recovery is not easy, it is not pretty but her men stick by her.  It is powerful, and makes you love Logan and Zach to pieces. These men prove for better or worse before they even know Jazz will accept them forever.
We learn that Logan's recovery was thanks to Zach, and well Logan returns that by helping Jazz in spades; this entwined devotion to each other makes the foundation of a relationship that the reader will be rooting for a happy ending with.
I thoroughly enjoyed the use of Jazz's Mother, it was humorous, emotional and endearing.
Jazz loves Logan and Zach but accepting what loving two men brings may be too much for her. I am not going to tell you how Jazz deals with her feelings but I will say I thoroughly enjoyed the end.  It did not make their relationship out to be easy, they speak openly about
their being challenges but the men's love for Jazz will leave you with a heart filled with  love!
About the Author
Heather Long lives in North Texas with her family and their menagerie of animals. As a child, Heather skipped picture books and enjoyed the Harlequin romance novels by Penny Jordan and Nora Roberts that her grandmother read to her. Heather believes that laughter is as important to life as breathing and that the Easter Bunny, the Tooth Fairy and Santa Claus are very real. In the meanwhile, she is hard at work on her next novel.
Retreat Hell!  She Just Got Here