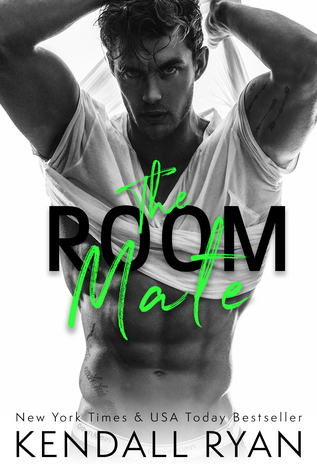 The Room Mate

by Kendall Ryan
on January 24, 2017
Buy on Amazon, Buy on B&N, Buy on iTunes, Buy on Kobo
Goodreads


The last time I saw my best friend's younger brother, he was a geek wearing braces. But when Cannon shows up to crash in my spare room, I get a swift reality check.

Now twenty-four, he's broad shouldered and masculine, and so sinfully sexy, I want to climb him like the jungle gyms we used to enjoy. At six-foot-something with lean muscles hiding under his T-shirt, a deep sexy voice, and full lips that pull into a smirk when he studies me, he's pure temptation.

Fresh out of a messy breakup, he doesn't want any entanglements. But I can resist, right?

I'm holding strong until the third night of our new arrangement when we get drunk and he confesses his biggest secret of all: he's cursed when it comes to sex. Apparently he's a god in bed, and women instantly fall in love with him.

I'm calling bullshit. In fact, I'm going to prove him wrong, and if I rack up a few much-needed orgasms in the process, all the better.

There's no way I'm going to fall in love with Cannon. But once we start…I realize betting against him may have been the biggest mistake of my life.
The premise of The Room Mate is something that has been done before, but Kendall Ryan puts her spin on it to make it fresh and unique. It has been some time since I have read a book by this author, and I am so glad that I picked this one up. I was reminded of why I LOVE her books. Wickedly sexy and fun…Kendall Ryan writes sinfully hot stories that are not only gripping but heartfelt! I completely LOVED Cannon and Paige!!!
Cannon Roth is 24 years old and at the top of his game when it comes to med school. He is super smart and hot as hell but when it comes to dating, he has not had any luck finding normal girls (wait til you read the prologue OMG!). Cannon finds himself homeless and has to find a place to stay and that's where we meet Paige.
Paige is Allie's best friend (Cannon's sister) and as a favor to her closest friend, she agrees to let Cannon stay with her. Paige remembers Cannon as being a nerdy kid with braces but when he shows up at her door – WOW do sparks fly! On both sides!! Cannon is nothing like she remembers – now so confident, cocky, and gorgeous. And for Cannon, Paige has always been the one that he fantasized about as a younger kid so to see her as a woman, takes his breath away.
But what happens when Cannon has taken a vow not to touch another girl and focus on medical school? And for Paige – what happens when she knows that Cannon is forbidden because he is the younger brother of her best friend? And with all that combined, Paige wants to test Cannon's theory and prove him wrong that all women who he has sex with him fall in love with him?!??! It's a recipe for disaster!!! OMG!!!!!!
Well, of course I am not going to tell you the outcome because you will have to read this book to find out what happens! But I will say this….grown up Cannon is TO DIE FOR! Not only because of who he is as a person but because of his deep love for his family and his passion for his job. I loved Cannon and Paige's connection, their easy banter and that they just understood each other.
Readers who love Kendall Ryan, love romance, enjoy a fun read with melt your heart men should pick up this book. I am a forever Kendall Ryan fan and look forward to reading what she has in store for us next. <3