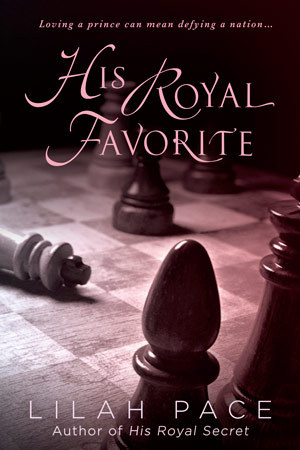 His Royal Favorite

by Lilah Pace
on August 16, 2016
Buy on Amazon
Goodreads


The conclusion of Lilah Pace's racy, romantic male/male duology following His Royal Secret...

James, Prince of Wales, is making history. He's decided to come out to his subjects—and the world. However, telling the truth means exposing his relationship with lone-wolf reporter Benjamin Dahan. Although Ben never wanted commitment, the unexpected depth of his feelings leads him to join James in the media's harsh spotlight.

When the news story explodes across the globe, Ben can endure the mockery and dirty jokes. But after his tragic past is cruelly revealed, his life begins to implode. Can even his love for James be worth this?

James has it no easier. His revelation divides the country and sparks turmoil within the royal family. He must struggle to defend not only himself and Ben, but also his younger sister, who hovers on the brink of a breakdown that could endanger her life.

Is Ben strong enough to survive the onslaught and stand by James' side? And will James have to make a choice between Ben and the crown?
I was so captivated by this book. Ben and James stole my heart as they worked to create their happily ever after.  His Royal Favorite is so much of what I love in a love story, and what is that you might ask? Seeing the couple TOGETHER, trying to make it work, fighting for love, choosing their love over whatever life throws at them, deciding, yes deciding each day through crisis after crisis, through life's ups and downs to be with each other.
I am going to pause and say this part is a spoiler to book 1 His Royal Secret so don't look if you are a non-spoiler reader…….
His Royal Favorite begins where His Royal Secret left off with James deciding to go public about being gay.
Yes, the Prince is choosing to reveal his secret, and why he does this speaks volumes to the man he is.
His Royal Favorite is such a journey for James and Ben. You see Ben was fine being a secret on many levels because he never thought he wanted a forever partner.
James' warnings about what it is like to live in the public eye is played out in this book, and it will leave you so emotional.  The pain the media can cause is deep and how it touches the lives of the characters in this book shows what a wonderful writer Ms. Pace is.  This book had me feeling so many emotions and when the media uses Ben's backstory, my heart ached for him! When James begs him to open up about it and he does my heart broke yet again but was filled with hope as it meant these two were learning to communicate on a whole new level.
Speaking of emotions, the statement James writes on behalf of his sister Princess Amelia had tears in my eyes, it was poignant, powerful and even if it is a bit of a spoiler, I must say the handling of mental illness for this side line story touched my soul! It was so well done, really highlighted how mental illness touches everyone around the patient and how keeping it a secret helps no one.  In the end, this wove masterfully into the love story of James and Ben, the two of them during this part of this story proved to me this is a forever love!
As I mentioned in my review of book 1, I loved loved the use of Lady Cassandra in this book, she proves in spades she is James best friend!
Though I don't follow the royal family in real life in this book the use of the monarchy and it's deep history were masterfully woven into the storyline especially as so many struggled to integrate the tapestry of the monarchy into the modern world of today.
This book provides an in-depth look into how do you make happy work, again so much so it may be a top read of 2016 for me. I don't love they rode off into the sunset happy endings, I want to see the couple making it work and His Royal Favorite gave me that in spades.  So if you love a long and complete love story, one that will have you feeling a range of emotions while two adults try to figure out how to blend into each other's lives then I highly recommend this duology.
The epilogue was so wonderful that I purposely read it slow…so much so that I read it in double the time my kindle had predicted as I truly wanted to savor every last moment with these two. And just when I thought it couldn't get any better the last few paragraphs were EPIC! And the person who was the catalyst for it made it that much better!!!
This is the kind of book that I hope my review will even do justice for.
P.S I would be remiss if I didn't say I loved how the cover images for these two books wove through this long and in-depth love story.