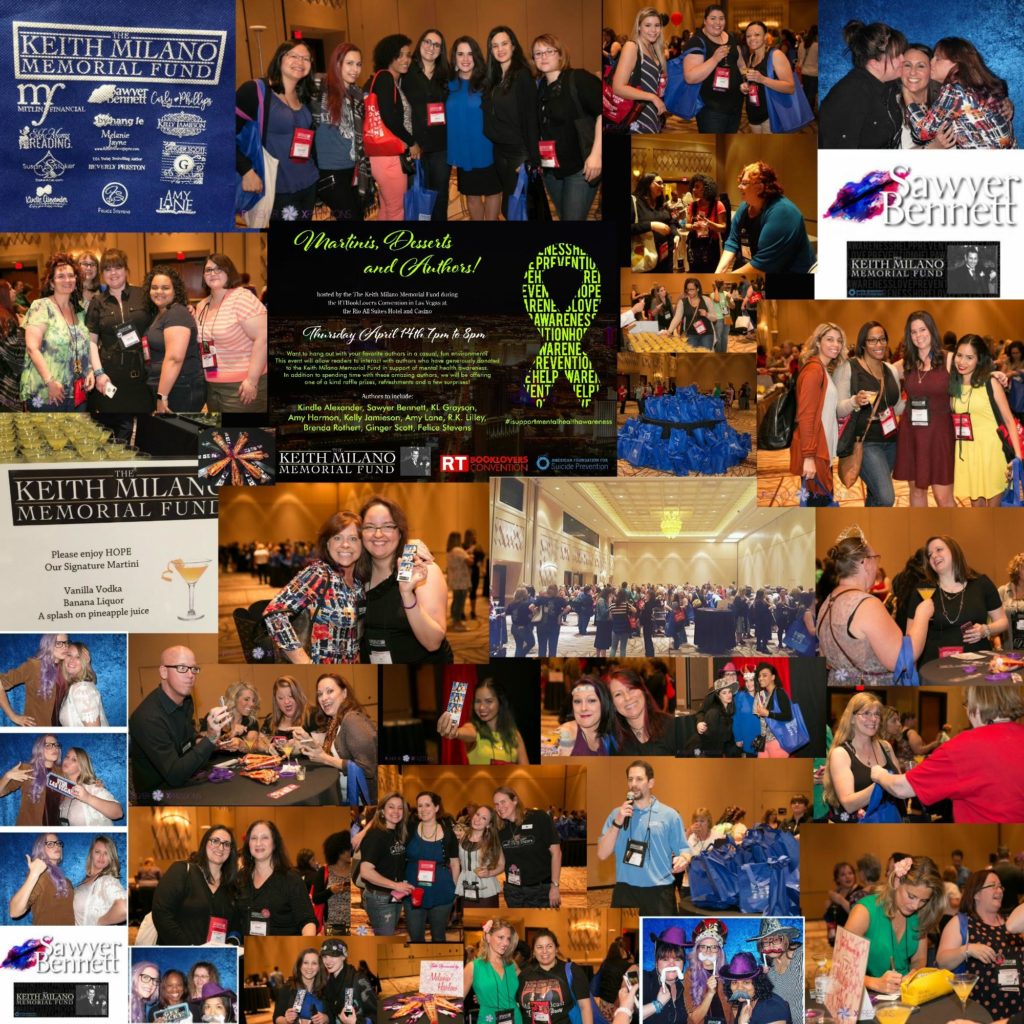 A few months ago, I was honored to announce that the Keith Milano Memorial Fund would host an event during #RT16 in Las Vegas.  I could have never imagined the level of support we received from those in attendance.
I am going to write this with the hopes of not babbling (and the hope that Christine my amazing blog partner will edit if I do :)).
Martinis, Desserts, and Authors was designed to promo the fund's May Mental Health Awareness Book Fundraiser and Auction.  So many of the authors who have supported the fund over the years sponsored the event and/or joined us! I have often said Thank You isn't enough and though it never will be, saying it in person with a hug and sometimes a tear in my eye took it to a whole new level.
The fund and our cause to raise awareness about mental illness was embraced with open arms.  The stories people shared, their comments to keep up the good work touched us on so many levels. Having said that, three things in particular stand out as something I want to share: 1) the spontaneous giving 2) this community's support of a post that went live just for the event and 3) the number of people who came up to us to share their story.
1) The spontaneously giving of donations that occurred during the evening was overwhelming (so much so that my husband and I were still talking about it at breakfast the next morning). During the event, people were coming up to the 
RT
 staff and asking how to give. We walked out of the event with $316 cash (which was immediately paid online to the memorial fund – photo below) and after the online donations were in, without asking simply from people's desire to give because the cause touched them, that evening we raised $466 for the Keith Milano Memorial Fund!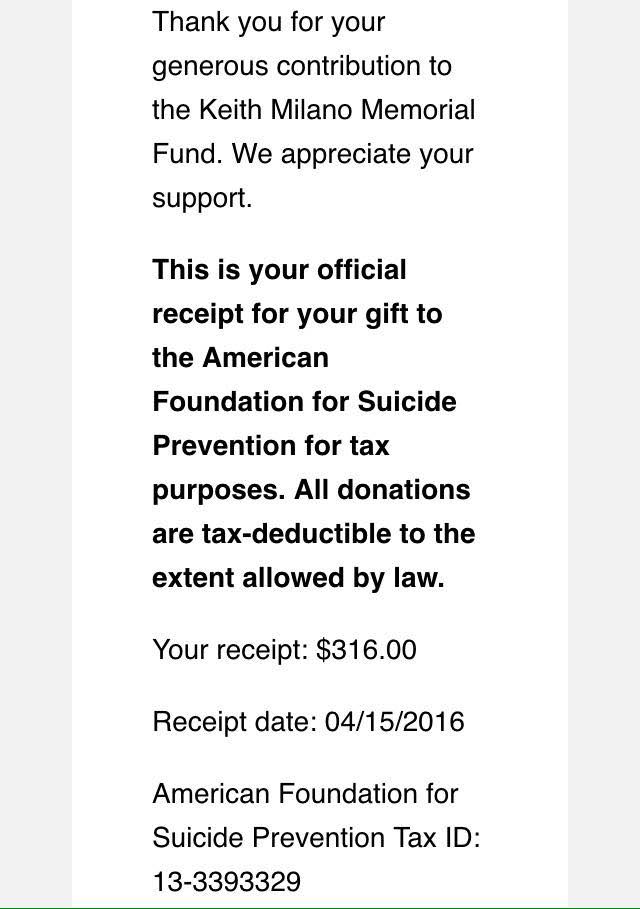 2) Before I start, please know this post is being done with Amy Harmon's permission. A few moments before the event was to start, I was made aware of the post below; a post in which Amy Harmon was open about the panic attack currently having a hold of her as she tried to get to the event.  The outpouring of support for Amy both online and as this unfolded is something that I needed to mention. Amy, Thank You for having the courage to share. This is why we work to reduce the stigma and Thank You everyone who reached out and supported Amy; the world needs more of this understanding.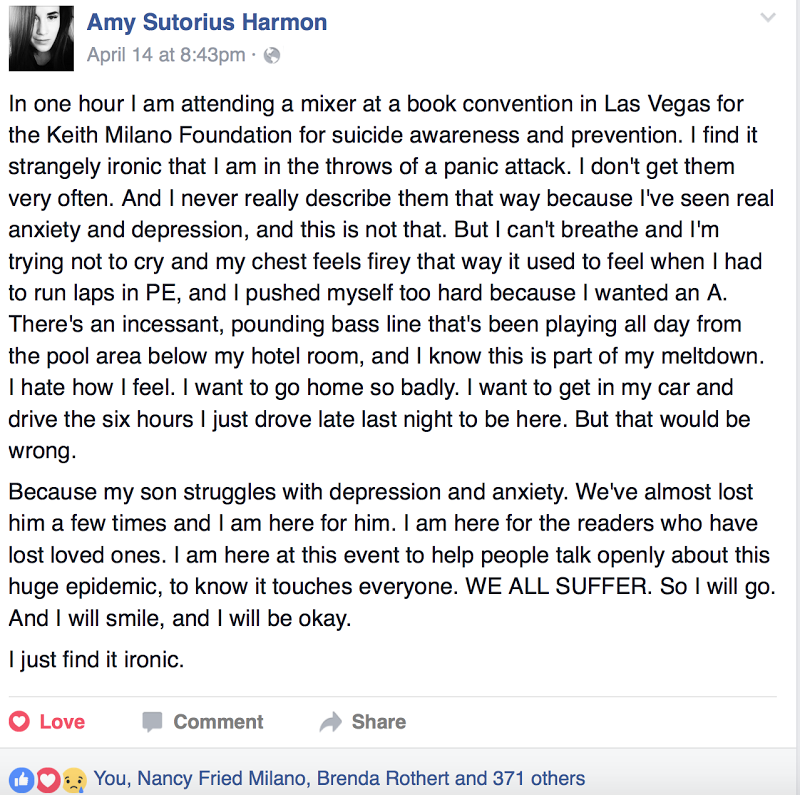 3) 
Friday
 morning as I walked to breakfast, someone stopped me and asked "did the women who lost her father to suicide speak with you?" I said 3 people who lost their fathers' came up to me, so I am not sure specifically who.  I was also approached by 4 people who lost their brothers and countless who shared their struggle with us. My husband often says "mental illness touches all of us," well this evening reminded us of how true that statement is.
#RT16 was huge, spread out in a massive convention space inside of the Rio in Las Vegas. I met so many people who I have come to call friend over the past few years, some I took photos with many I forget (that may be my biggest regret of the week).  I had drinks with some, shared a meal with others, and got to hug so many.  There is still so much power in the face to face interactions, in saying Thank You while shaking someone's hand, and in many cases in a warm embrace.
Many of the people I met this week are authors who have written powerful stories that touched my soul, stories that have made me cry, and stories that have made me laugh. Thank you for those moments.
I was yet again reminded that the man I share my life with is strong for me when I can't be, those at the event on 
Thursday
 witnessed that first hand!
Larry and I shared many smiles, a number of great meals, yes amazing drinks (see the photos and it is clear that I am a martini lover) and we shared a few touching moments as we remembered Keith. We were both so touched that our efforts to fight mental illness in Keith's memory were embraced.
I must also add how amazing the 
RT
 Staff is. Are there hiccups putting on an event this size? Absolutely, but their grace under pressure and passion to make it all work shines through!  Being able to organize something this size with so many moving parts is no easy feat, this staff made it seem effortless!
We hope to see you all at #RT17 in Atlanta. Thank you again for all of the memories that I will treasure <3
Keith Milano Memorial Fund information:
The May Mental Health Awareness Book Fundraiser has over 100 books in it. Keep you eyes out here and on dozens and dozens of blogs for the list!