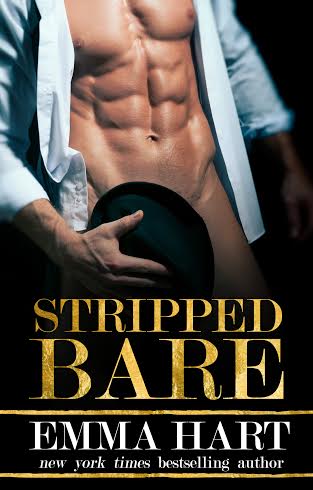 Stripped Bare

by Emma Hart
on June 21, 2016
Buy on Amazon, Buy on B&N, Buy on iTunes, Buy on Kobo
Goodreads


When unlucky in love Mia O'Halloran finds herself face to Sex God V-Lines with a chiseled, hot male stripper in possession of a package not even the postal service could lose, what happens in Vegas is definitely supposed to stay in Vegas.
She doesn't expect to find Mr. Multiple Oh-Oh-Oh as her client—and hell, how is she supposed to pitch a marketing plan when she can remember how easily he briefed her g-spot on an orgasm… or five?
West Rykman has one rule: you don't mix business with pleasure. They can look, but unless they're shoving a dollar inside his pants, they can't touch. He learned that lesson the hard way two years ago.
He had no idea the flame-haired vixen with a penchant for hot, kinky sex and a mouth that would make a hooker cry would be the one to bend—and break—his rule.
She's sworn off men after ten too many heartbreaks.
He's determined he'll never lose it all for a woman again.
She's pretty screwed.
He's really screwed.
And not in the we're-not-sleeping-tonight way…
Enjoy a sneak peek into Stripped Bare releasing next week below and make sure to enter the AMAZING giveaway for a chance to win this fiery HOT book!!!
WOW! What a great intro to Emma Hart – this was my first experience reading a book by this author and this will certainly not be my last. Holy Hot!!! *fans self* (Read the excerpt below just to get a taste of what I mean OMG!!!!)
I am a new fan of Emma Hart and am completely addicted!
So what's it about without giving away too much info?
Mia O'Halloran is out for her best friend's bachelorette party when she meets West Rykman. West is this amazingly hot and sinful stripper that she gets a lap dance from, but the night turns into something unexpectedly more for each of them.
Mia has sworn off men while West never mixes business with pleasure. Who knew that when they met that all rules would be off the table?
This book came at just the right time for me….I needed something spicy hot and this book was the perfect anecdote.
The connection between Mia and West was constant, irresistible and unforgettable. Fate has a funny way of working sometimes and in this case fate brings them together because their one night was not supposed to be their end (thank goodness for that!).
Emotions will run high in Stripped Bare and with the perfect combination of humor, fun and sexy times, Emma Hart has given us a story that readers will devour and savor until the very end. And let's not forget, readers will definitely want MORE! Because though this can be read as a standalone, I am hoping for more from the secondary characters (namely Beck ahem!) and though I am usually patient, I want more NOW Ms. Hart!!!! Please *bats eyes* <3 <3 <3
I know I am being vague and am not saying too much but trust me, if you are looking for something provocative and entertaining with characters you will laugh out loud at and love, you will want to #oneclick this book on release day!!! I can't wait to read more from Emma Hart!

"Hi," I said into the phone. "What's up?"
"Me," he rumbled back. "I'm pretty sure I've been hard all fucking day."
I swallowed. Was this phone sex? I'd never done phone sex before.
"West?"
"Yeah?"
"Are we going to have phone sex?"
He paused. "Do you want to have phone sex?"
"Are you hard?"
"I'm always hard when I think about you."
I felt like I needed to preen a little. "I've never had phone sex before."
"What kind of assholes have you been dating?"
"You really don't want to go there. We'll be here all night. I mean, seriously. I bore myself at this point."
"You're rambling. Are you drunk?"
"I wish," I mumbled. I needed to be drunk to phone-sex, didn't I?
Yes, I decided, blankly staring at my TV. I did. And not just any kind of drunk. I needed to be absolutely hammered.
"You didn't answer the question, Mia," he said softly.
Oh. Right. Did I want to. Well, I had looked at that picture several times…
"Yes. I want to." I was officially crazy. I'd lost my mind. No doubt about it.
"Where are you right now?"
Through the phone, I heard a door shut.
"Are you in bed?" he asked.
"No."
"Get into bed. Take your clothes off first."
His tone was commanding and strong, and before I could think it through, I was in my room, my phone was on the bed, and I was stripping down to my underwear.
I picked the phone up and climbed in bed. "I'm in bed."
"Good." His voice was a little gruff. "What are you wearing?"
I bit down on my lower lip and glanced at the scarlet-red underwear set I had on. "Hold on." I brought up the camera on my phone, kicked the sheets to the side, and took a photo of myself using the front camera. It was good enough, so I texted it to him. "Check your messages."
He was silent for a good few seconds. Then there was, "Jesus, Mia. Fucking hell."
"Do you…like it?"
"Like it? You look sexy as fuck. If I were with you right now, I'd rip those fucking panties off you."
"And do what?" Look at me go.
He laughed slightly. "Kiss you," he answered roughly, all traces of laughter from his voice gone. "I'd run my hands up your body as you wrap your legs around my waist."
I swallowed, my clit aching as the low tone of his voice mixed with his words turned me on.
"I'd kiss down your neck and unclasp your bra so I could touch your gorgeous tits."
My hand hovered as I contemplated doing it—and then I did it. One quick fiddle with the clasp between them and my bra cups fell to my side. My nipples were hard, and I cupped my right breast, my thumb ghosting over my nipple.
"I'd take them in my mouth. Roll my tongue over your hard nipples until you moan beneath me and beg me for more."
My eyes closed.
"And then I'd kiss my way down your stomach to those tiny, red panties."
My hand took on a life of its own as it followed his words. My fingertips trailed down the center of my stomach until they brushed the waistband of the red lace thong.
"Then what?" I asked.
"Then I'd peel them down your legs and, once they were off, open your legs so I could see your wet little pussy." He exhaled. "Are you naked?"
"Yes," I replied softly.
"I want to see you."
"Will you send one back?"
"Yes."
"Okay," I whispered. Then I awkwardly took a picture.
Luckily it wasn't blurred, and no sooner had I sent it to him than one came right back. No face, just like mine, and my eyes skipped right over the hot body to where he looked like he had a tight grip on his cock.
I struggled to right my breathing. I was even more turned on now, seeing that he was too.
"Fuck, Mia. I'm so hard for you."
I swallowed. "Are you touching yourself?"
"Yes. But, if you send me another picture like that, I won't need to." He paused. "Are you touching yourself?"
"Not yet."
"Touch yourself. Now. Open your legs and slide your fingers over your clit." The demanding tone was back, and I loved the thrill that danced down my spine on a shiver. "Rub it and put a finger inside your pussy. I want to know how you feel when you fuck your own tight pussy."
My heart pounded in my chest as I did what he'd said. I slid my hand down between my legs, ghosted a fingertip over my clit, and bit down on my lower lip as I pushed my middle finger inside myself.
"Move it," he ordered me, his voice gruff. "Rub your thumb against your clit. Fuck your own hand, Mia, and imagine it's mine. Imagine I'm there watching you finger yourself and get off."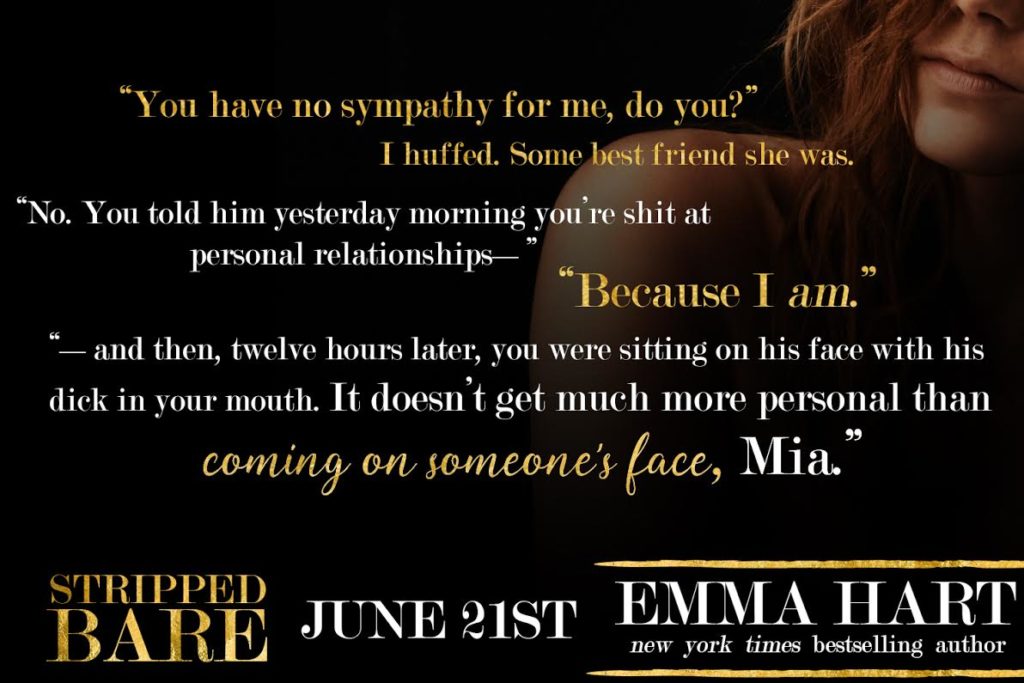 **Giveaway now over! Congrats to Jolanda L and Latifa Morrisette**
Enter to win a signed copy of Stripped Bare (1 US only, 1 open international)
All you have to do is share this excerpt on your social media account(s) (Facebook, Twitter, Instagram, etc). Sample message below:
 Stripped Bare is Coming June 21st #MixingBusinessWithPleasure #MrMultipleO #WestAndMia @EmmaHartAuthor @shhmomsreading
Please make sure to post a link to your shares below. TWO WINNERS will be chosen Monday June 20th. Thank you for sharing!