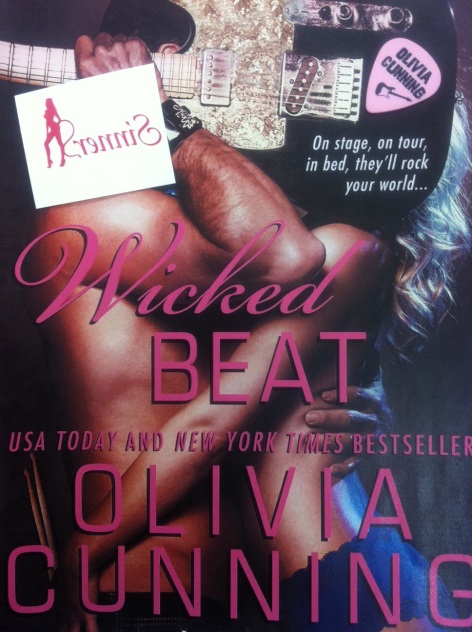 The last installment of the Sinners on Tour series will be here in no time! To celebrate, Source Books is offering another preorder offer!
If you pre-order Wicked Beat, Source Books will send you an exclusive Sinners logo tattoo and one sexy Sinners hot pink guitar pick! But you have to hurry because they only have 500 of them available! You have until August 5th or until quantities run out! Here is what you do:
1. Pre-order the book (print or eBook) through any retailer (Barnes & Noble, Amazon, Indiebound, BAM, etc.)
2. Email your proof of purchase (receipt or picture of the receipt) to wickedbeat@sourcebooks.com. Don't forget to include your home address (US & Canada only please) so we can send you the tattoo and guitar pick! Yes, if you've already pre-ordered it months ago, that counts, you just have to show your receipt.
3. You will get an email back confirming when the items have been sent out. If you were not one of the first 500 people, you will also be alerted.
4. Enjoy Wicked Beat when you receive it in August!
Synopsis
Featuring drummer Eric Sticks!!
From the moment he lays eyes on Sinners' new front of house soundboard operator, drummer Eric Sticks knows he has to make Rebekah his. Unfortunately, she's too busy trying to seduce guitarist Trey Mills to pay him much attention. Rebekah never planned to fall for the tall, goofy drummer with the weird sense of humor and a heart the size of the galaxy, but Eric makes her laugh and his constant attention makes her feel sexy and irresistible–exactly what she needs after the things her last lover said to her. A woman who gives as much as she takes, Rebekah makes Eric feel like a total stud–exactly what he needs after surviving a decade of watching the incredibly talented members of Sinners from the wings.
PRE-ORDER ON AMAZON TODAY!

Haven't read the series – well then you are missing out! Catch up with the rest of the band!
Backstage Pass #1

Rock Hard #2

Hot Ticket #3

Double Time #4