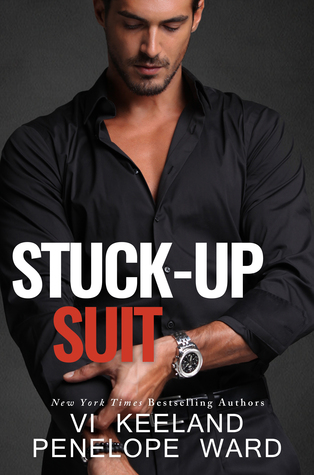 Stuck-Up Suit

by Vi Keeland, Penelope Ward
on April 11, 2016
Pages: 300
Buy on Amazon
Goodreads


From the New York Times Bestselling authors of Cocky Bastard, comes a sexy new standalone novel.

It started out like any other morning on the train.

Until I became mesmerized by the guy sitting across the aisle.

He was barking at someone on his phone like he ruled the world.

Who did the stuck-up suit think he was…God?

Actually, he looked like a God. That was about it.

When his stop came, he got up suddenly and left. So suddenly, he dropped his phone on the way out.

I might have picked it up.

I might have gone through all of his photos and called some of the numbers.

I might have held onto the mystery man's phone for days—until I finally conjured up the courage to return it.

When I traipsed my ass across town to his fancy company, he refused to see me.

So, I left the phone on the empty desk outside the arrogant jerk's office.

I might have also left behind a dirty picture on it first though.

I didn't expect him to text back.

I didn't expect our exchanges to be hot as hell.

I didn't expect to fall for him—all before we even met.

The two of us couldn't have been any more different.

Yet, you know what they say about opposites.

When we finally came face to face, we found out opposites sometimes do more than attract—we consumed each other.

Nothing could have prepared me for the ride he took me on. And I certainly wasn't prepared for where I'd wind up when the ride was over.

All good things must come to an end, right?

Except our ending was one I didn't see coming.
Christine: I LOVE this writing duo together. They write seamless stories that as a reader you can't even tell that there are two people writing. I read Cocky Bastard and feel that Vi and Penelope really stepped it up for this one because I absolutely loved this one completely!!!
Denise: This is my first book by this writing dual and I was so impressed!!  From the moment I read the blurb and saw the cover, I said I need to read this book, and I am so glad I did. At first I was thinking, hot guy in a suit meets girl from the other side of the tracks, attraction, awesome banter, this book is going to be fun… well it was so much more than that.
Christine: This book was so much fun. From the moment that Soraya sees Graham on the train, to finding his phone and getting a glimpse into his life by scrolling through his phone, to actually having the NERVE to call people on said phone – she is one of my favorite heroines this year!
Denise: Yes, Graham has a line of women in his past but the moment someone special enters this book, it takes on a whole new dimension one that had me glued to my kindle (nope not telling you who but its not who you are thinking!) Graham is so much more than a dirty talking alpha, he is a layered character who cares deeply and in the those moments when he just wanted Soraya by this side made me fall in love with this character!
Christine: I loved Soraya and Graham together. Graham ends up being so much more than the stuck-up suit that we initially meet. I don't want to go into the reasons why he is so special, you will have to read it yourself to fall in love with this character like we did.
Denise: As this relationship develops, these two continue to communicate; this dialogue pulled me in even deeper into the book, the heart to hearts, the funny text messages so well done! Soraya pushes and challenges Graham all while not pushing him to change; she embraces him as the man he is. Graham is the one who decided he may not want to be the man the outside world currently thinks he is.  I loved how those around Graham saw those changes.
Christine: Trust is a big thing that both will have to overcome to let the other into their lives. But I agree with Denise, both characters grew so much throughout the book together though each remained true to themselves and who they were inside. Soraya and Graham brought out the best in the other making them the perfect pair. I loved how they were so protective of each other and even more so, how they always stood by each other's side showing readers their unbreakable bond even through hard times.
Denise: I would remiss if I don't add that I loved all the nicknames in this one; the nickname Graham Craker was beyond adorable… just wait until you find out who calls him that!
Christine: YES! Omg I loved this so much *heart melts*
Denise: The authors managed many plot twists and turns as well as outside pressures on the relationship without me ever questioning Graham's desire to be with Soraya. I won't tell you what Soraya does for a living but I will say how her position weaved into this plot throughout was so well done; and Graham's keen eye took the resolution of this story to a place deep in my heart! The epilogue to this book left me with a smile from ear to ear as it yet again wove Soraya's profession into the very end.
Christine: Stuck-Up Suit is entertaining, laugh out loud funny and sweet, sexy and emotional. All things that readers look for in a great book. I love this writing duo together and hope they continue to write more together – they are must click authors for me <3