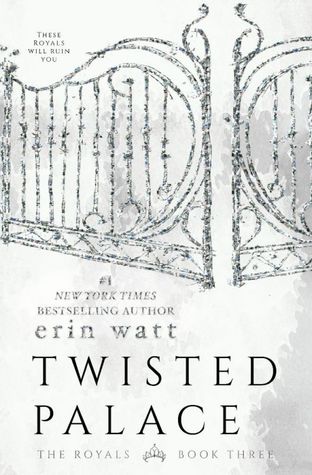 Twisted Palace

by Erin Watt
on October 17, 2016
Pages: 370
Buy on Amazon, Buy on B&N, Buy on iTunes, Buy on Kobo
Goodreads


These Royals will ruin you…

From mortal enemies to unexpected allies, two teenagers try to protect everything that matters most.

Ella Harper has met every challenge that life has thrown her way. She's tough, resilient, and willing to do whatever it takes to defend the people she loves, but the challenge of a long-lost father and a boyfriend whose life is on the line might be too much for even Ella to overcome.

Reed Royal has a quick temper and even faster fists. But his tendency to meet every obstacle with violence has finally caught up with him. If he wants to save himself and the girl he loves, he'll need to rise above his tortured past and tarnished reputation.

No one believes Ella can survive the Royals. Everyone is sure Reed will destroy them all.
They may be right.

With everything and everyone conspiring to keep them apart, Ella and Reed must find a way to beat the law, save their families, and unravel all the secrets in their Twisted Palace.
So I love this series – there is something about the drama of young adults, most especially these Royals that appeals to me. I have been waiting for Twisted Palace for what seems like FOREVER because I have been dying to get my answers and boy did I get it and more from this book.
A big surprise happens at the end of Broken Prince, something totally shocking and something that I didn't expect. How Ella deals with this surprise and how she allows it into her life while still trying to be a family to the Royals will be a true testament to her strength and character.
There is so much drama and conflict in Twisted Palace and it all causes so much anxiety within me that I was sitting at the end of my seat throughout my read.
I thought that the book was aptly named as the characters in this series are truly twisted; no one is by any means evil or mean spirited but I truly believe that your past shapes who you are as individuals and with the life that these boys grew up in, it's no wonder they are who they are today.
This series is a roller coaster ride but a fun one that you don't want to get off from. Yes, there are ups and downs but you can't help but want more. Did everything work for me in this book? No, not everything did. I know I am being purposefully vague because I don't want to reveal everything but I felt that some parts dragged for me in the middle while at the end, I felt that everything was a bit rushed where I wanted more. The mystery part was done really well though and I enjoyed that aspect very much.
Through it all, I am happy because Ella has found a true family that she can love and who will cherish her as she is meant to be appreciated and adored. I closed the book with a smile on my face because I love this writing duo together.
I love every Royals brother and I hope beyond hope that Erin Watt gives a happy to all of the boys because I believe in my heart that they all deserve to find happiness and love in their lives.
♥ Read the book that started it all! ♥
Book 1 – Paper Princess
**Read my 4 STAR review HERE**
Book 2 – Broken Prince
**Read my 4 STAR review HERE**