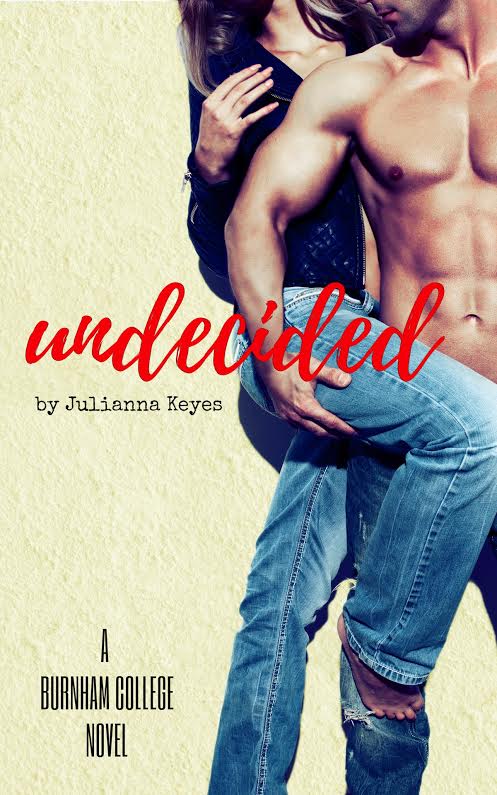 Undecided

by Julianna Keyes
on April 4, 2016
Pages: 300
Buy on Amazon, Buy on B&N, Buy on iTunes, Buy on Kobo
Goodreads


Nora Kincaid has one goal for her second year of college: be invisible. Last year's all-party-no-study strategy resulted in three failed classes and two criminal charges, and if she messes up again she'll lose her scholarship. But there's one problem with her plan for invisibility, and his name is Crosbie Lucas: infamous party king, general hellraiser…and her new roommate's best friend.

Crosbie's reckless reputation and well-known sexcapades aren't part of Nora's studious new strategy, but as she's quickly learning, her new plan is also really boring. When Crosbie's unexpected gestures of friendship pull her head out of her books long enough to see past his cocky veneer, she's surprised to find a flawed and funny guy beneath it all. The muscles don't hurt, either.

But as Nora starts to fall for Crosbie, the weight of one of last year's bad decisions grows even heavier. Because three failing grades and two misdemeanors are nothing compared to the one big secret she's hiding…
Undecided by Julianna Keyes has a new cover and is #ONSALE for a limited time for $2.99. Make sure to enter the giveaway below for a chance to win a signed copy of this book (open internationally). Good luck!

Quite honestly, I haven't read a New Adult book in a while as lately a lot of the books have been too similar in plot for my liking.

My blog did a giveaway with 5 other blogs recently and this book came highly recommended from Maryse so of course I had to give it a try! And boy am I glad I stopped reading my TBR to fit this book in!
I read this book in ONE day – it was SO good! I now have another new author to fan over and I am seriously SO EXCITED about that!
Nora Kinkaid partied like a rock star during her freshman year of college and unfortunately her grades fell. With her scholarship on the line, she has decided to buckle down and be studious with no distractions and how better to do that than to move off campus to her own apartment so she can get away from the fun temptations.
To her surprise, the guy looking for a new roommate is the very popular Kellan McVey (a guy she hooked up with the previous year in a drunken moment who clearly doesn't recognize her). Despite the awkwardness of not being recognized, she decides to move in with him so that they can get their nerd-on together as he is also trying to improve his grades.
Nora didn't expect to be put face to face daily with Kellan's best friend Crosbie Lucas, another popular guy/athlete/manwhore. Nor did she expect to actually feel something more than friendship for him.
Without giving away any more of this book, I want to say that reading this was SO MUCH FUN! I found myself laughing out loud at the character's dialogue and bantering back and forth and I truly enjoyed being reminded of what college life is like with this refreshing storyline. This book is a true gem and is a must read on this summer's reading list.

I absolutely fell in love with these characters and peeling away the many layers that made them who they were. I enjoyed every minute completely immersed in this book..something that hasn't happened in a long time for me in an NA book.
With a good combination of humor, sexiness, a perfect hero and heroine – look no further than UNDECIDED by Julianna Keyes. This is an author to add to your #mustread list and I look forward to reading more from her (and hopefully of secondary characters in this book…hint hint lol)

Read an excerpt from the author's website HERE

**Winner Jolanda L**
Enter to win a signed copy of Undecided with the new cover (open international)
All you have to do is share this cover on your social media account(s) (Facebook, Twitter, Instagram, etc). Sample message below:
 New Cover and #Giveaway for Undecided #5StarRead #TrueGem #TrueLove @shhmomsreading @JuliannaKeyes
 Please make sure to post a link to your shares below. ONE winner will be chosen Saturday July 23rd. Thank you for sharing!