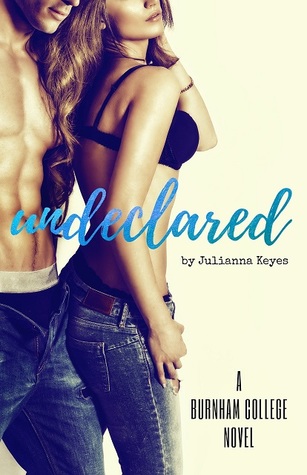 Undeclared

by Julianna Keyes
on February 27, 2017
Buy on Amazon, Buy on B&N, Buy on iTunes, Buy on Kobo
Goodreads


Kellan McVey is Burnham College's most prolific athlete, partier, and ladies' man—and that's just how he likes it. Returning to reign for his third year, he wants nothing to change. Then Andrea Walsh shows up.

It wasn't too long ago that Andi and Kellan were lifelong friends, mortal enemies, and, for one hot summer, more. Then Kellan left and Andi stayed behind.

Kellan thought he'd moved past that last summer's heartbreak, but with Andi sitting next to him in class, befriending his friends, and battling for the same once-in-a-lifetime job opportunity, he's starting to remember why he hated her…and why he loved her.

Kellan has a long list of reasons that falling for Andi again is a terrible idea, though every new moment together challenges that theory. But Andi's all too familiar with Kellan's love 'em and leave 'em approach—and she's found someone else to get serious about.

Burnham's campus king has never had to fight for a girl, but if he wants Andi to give him another chance, he'll have to do the one thing he's never had the nerve to do: admit it.
Kellan McVey is known at Burnham College for having a long list of conquests. For those who read book 1, Undecided, you will remember him going through this list and calling people on it when he was having…ahem..issues o.O
Kellan is known for being a lady's man, but he is more than that as he is athletic, is a good friend, likes to cook and beneath it all has a big heart.
I have been dying to read Undeclared as I fell in love with this character when I first met him. In this book, we meet Andrea Walsh aka Andi, a girl who was a good friend to Kellan growing up, someone who was known to have a crush on him and then one day just stopped talking to him. Andi comes to school on a scholarship unbeknown to Kellan and now it's Kellan's turn to fight for the girl – for both her friendship that he misses and her heart.
I truly enjoyed a look into Kellan 2.0's life…how he matured and grew as a character. I absolutely LOVED the bantering between Kellan and Andi, how they pick at each other to get the other riled up was cute and maddening at the same time. And for me, the author's writing is spot on.
However I felt that there was something I was missing between these characters. I never really fell in love with Andi as Kellan's love interest, maybe because of her aloofness and her being so standoffish to him though I understood where she was coming from as he has hurt her time and time again. And while I still enjoyed the book, I just wanted more…maybe more time for them to be together, more communication, more emotions…just more…I LOVE Kellan and wished I enjoyed Andi's character more. Maybe if I had gotten her POV that would have changed my feelings about her as I never really connected to her.
While Undecided is still my favorite in this series, I still enjoyed reading Kellan's journey in Undeclared. This is a must read series for me and I plan on continuing with it and with this author as she is truly gifted and I enjoy her stories.
Read an Excerpt of Undeclared HERE
Check out my 4.5 star review for book 1 Undecided HERE.