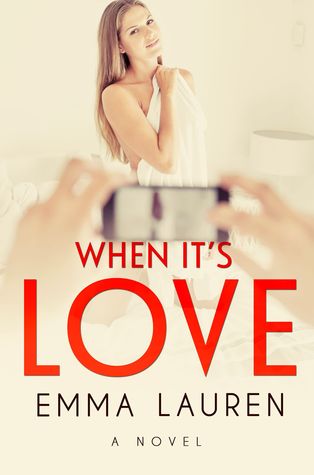 Enjoy an excerpt from the book below and make sure to enter for a chance to win an ebook copy of this book. THREE winners will be chosen using Rafflecopter. Good luck!!!
---

When Sydney Morrison learned the dark truth about who she really is, her whole world turned black. Tormented by her identity and deeply depressed, she confides in no one, not even her hot and adoring best friend, Henry.
Henry doesn't know the horrible secret of Sydney's past, but he does know about the epic crush she has on her famous writing teacher, Professor Sparling. Convinced she doesn't stand a chance with the professor, Sydney is shocked when he takes a special interest in her. The two begin a torrid online affair that pulls Sydney out of her shell and makes her feel desired and daring. And as Sydney tumbles into a journey that's erotic beyond her imagination, her relationship with Henry gets complicated.
Then Sydney's darkest secret begins to hunt her down just when she thinks she's escaping it. Suddenly nothing is what is seems to be and Sydney finds herself torn between truth and love.

Professor Sparling and I are sending emails back and forth so quickly it feels like a live chat, which I'm tempted to suggest.  I'm afraid, though, that Professor Sparling might be one of those old guys who doesn't get fast technology.  (At least he's not faxing his messages to me!)  And the truth is that I don't want the pressure of having to reply instantly.  This flirtation has spun so far so fast.  I don't need it to be ultra rapid.  Two days ago I was Professor Sparling's student pining away for his attention, and look where I am now.  I feel out of control… and I love it.  It's like being awake after a three-and-a-half year hibernation.  There are sensations coursing through my body that I haven't felt since I was eighteen.  For the first time since that awful day at Lake Pleasant, I truly want to be part of the world again.  I want to be the cute and sexy young woman I have the potential to be.  Even if nothing more happens with Professor Sparling, I will always love him for making me feel this way.  If he hadn't sparked my interest, I could have spent the rest of my life in a gray hoodie surrounded by cats.  Who knows, maybe as I aged I'd replace the hoodie with a thick terry cloth robe and become the classic spinster cat lady. 
The ding alerting me to a new message breaks my chain of thought.
If I told you to take off your pants, Sydney, I assume you've done so.  You wouldn't dare send me messages with your pants on, would you?  Now take off your shirt, too.  Do as I say, or I'll get angry with you.  I have a little paddle that I use on my students who don't do as they're told.
OMG!  Is he serious?  Has Professor Sparling done this before?  Is he really a spanker, or worse, a paddler?  The thought of bending over his knees in a schoolgirl skirt and having him yank down my panties and run his hand across my ass is very appealing.  That is exactly what I write in my reply.
My pants are off because I'm wearing a skirt today.  A tiny plaid pleated skirt that barely covers my ass.  Since I've been disobedient you bend me over you knees, and slap my ass with your left hand.  "Does it sting?" you ask. 
It does.  A lot.  But, I'm gasping and I can't catch my breath quickly enough to answer you.  Before I know it my little white panties are down, and you're roughly rubbing my ass.  I can feel the dampness forming between my legs.  Your hand is so close to that part me.  I want you to move your hand there.  I want to be touched, and I'm silently begging for it.  You slap me again with your left hand and when I yelp you shove your right thumb into my mouth.  I close my lips around it and moan.
Hello there, sassy slut inside of me.  Writing like this is turning me on.  A lot.  It's not as though I've ever been spanked before.  I'm really not writing from experience. Jake and I did our fair share of lovemaking back in the day, but it was all very sweet and conventional. I was only a teenager, after all.  I guess my long, dry spell has changed me into someone whose imagination runs wild.  And now here I am acting like I'm the kind of woman who casually bends over a man's knees for a spanking.  I close my eyes for a second, inhale, exhale, and send.  I'm too aroused to worry about embarrassment now, and it amazes me that my excitement has the power to turn off any sense of shame in me.  I want to get off more than I've ever wanted to before.  Period.  How can this be happening to me?  I'm glum girl, not sassy slut.  I don't recognize myself.  And I don't think I care.  The change is so welcome.  My body is buzzing with good sensations and vibes.  Given my past, and the way I came to be in this world, it seems strange that I'm wildly interested in a relationship with a man who has a kinky edge.  Shouldn't someone like me need love, tenderness, and security?  Shouldn't someone like me be terrified of this?
The ding of Professor Sparling's answer arrives so quickly it's difficult to believe he had time to read my message.
Sydney Morrison, you really are a bad girl, much worse than I thought.  I like it. As your professor, I reserve the right to give you some homework.  So, if your shirt is off as it should be, turn on your camera, take a self-portrait of your breasts and send it to me.  I want to see those perky nipples.  Show me those hot tits of yours.  I suspect you'll get a very good grade on this assignment. 


Christine's 3.5 STAR Review!!!
I enjoy the taboo of student/teacher romances and when this new author popped up on my radar, I couldn't resist.  I devoured this book in one sitting during holiday break with the kids and have thought about it since.
As the book blurb describes, Sydney has a huge crush on her teacher Professor Sparling but to me it seems more like unrequited love.  Her rich and handsome best friend Henry Hart is the only one that knows of her crush.  When her professor starts showing an interest in Sydney, I am happy with the confidence she starts to feel in herself in being desirable and more forthcoming.
I am immediately curious as to this secret that Sydney is hiding even from her best friend.  Unfortunately Sydney has no relationship with her mother and as the book progresses, I am saddened even more that her mother shows no real interest, emotion or love towards her daughter.
I enjoy the scenes that go back into Sydney's past with her ex-boyfriend Jake and you get a look into what her young self was like prior to her finding out her secret or not being so emotionally close to men.
As I continue to read and the secrets come out – BAM!  I am shocked beyond belief!  Now I will not reveal anything as I do feel that this is a book that you must read on your own but I do want to say that this is something that is very different in the New Adult genre and I enjoyed it immensely!  I also enjoyed the suspense that was mixed in as it did make my heart race!
There were some things that didn't work for me in this book that would have had me rating it higher – namely the length.  I do feel that more could have been explained throughout the book.  Though the sex was FREAKIN HOT, I wanted more connection between the characters, more intensity, something more than just the physical.  Now, this is a cliffhanger and a book 2 is in the works…I do feel that a lot of this could have been done in one book but in speaking with the author look forward to reading what she has planned for in book 2.
I thought the premise was different though student/teacher relationships have been done before and the writing was excellent.  Emma Lauren is definitely a new author to be on the lookout for….I can not WAIT for book 2 as I need to see where the author will take this story and how it will all end up.
This was a great debut novel for a new author that had passion, secrets, suspense AND some pretty hot guys – what more could you look for in a book?!

Emma Lauren has lived in Texas and Michigan. She met the man of her dreams when she was only 18, and 7 years later she married him. They now have three rambunctious kids who keep Emma on her toes. Emma loves animals, romantic stories, 80s music, chick flicks, and cupcakes. When she's not writing she's probably doing laundry.
---