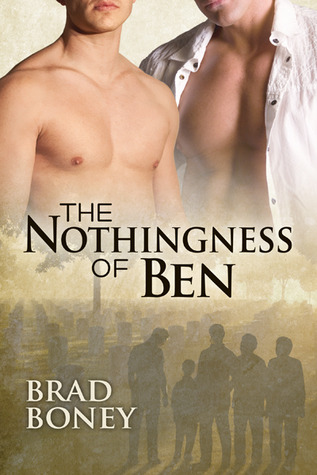 The Nothingness of Ben

by Brad Boney
on November 23, 2012
Pages: 248
Buy on Amazon
Goodreads


Ben Walsh is well on his way to becoming one of Manhattan's top litigators, with a gorgeous boyfriend and friends on the A-list. His life is perfect until he gets a phone call that brings it all crashing down: a car accident takes his parents, and now he must return to Austin to raise three teenage brothers he barely knows.

During the funeral, Ben meets Travis Atwood, the redneck neighbor with a huge heart. Their relationship initially runs hot and cold, from contentious to flirtatious, but when the weight of responsibility starts wearing on Ben, he turns to Travis, and the pressure shapes their friendship into something that feels a lot like love. Ben thinks he's found a way to have his old life, his new life, and Travis too, but love isn't always easy. Will he learn to recognize that sometimes the worst thing imaginable can lead him to the place he was meant to be?
The Nothingness of Ben tells the story of Ben Walsh, a successful New York City lawyer, who is faced with a major life decision when his parents are killed.
Not only does Ben never anticipate returning to the town he never grew up in, he could have never imagined how his life and heart would turn on its end when he meets Travis Atwood, the small town man, who lives across the street from his family.  The tragic passing of his parents has left Ben's minor age brothers with no guardian.
I don't often like to tell story points but it is hard to review this story without saying that Ben makes the right call and returns home to care for his brothers.
Watching Ben bond with these boys was so heartwarming and experiencing Ben and Travis develop such an ease with each other will have you smiling from ear to ear.  These men quickly become family, finding a way to make the home run and ensure each feels loved.
Ok let me pause to say that Travis is not gay, well at least he is not when the reader and Ben meet him, so being a part of Travis opening up to what he feels for Ben was so enjoyable.  Mr. Boney did a wonderful job at showing their connection and making the connection tangible to the reader.
Yes, Ben had a great life in New York City. One he thought was the life he wanted.  Ben does not completely cut ties with this former life and I want to make sure to say I loved the use of Colin, Ben's law school buddy and Colin's family.
The happy Ben and Travis find does not come easy as these men are at such different points in their lives when they meet, but the happy they find in the end was so worth the journey.
They often say you can't be with someone and truly happy until you find yourself, until you love YOU. Well this book proved that in spades!